Weekend Forecast for December 30, 2005 - January 1, 2006
By David Mumpower
December 30, 2005
BoxOfficeProphets.com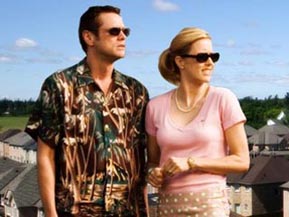 ---
A quirk in the calendar severely damaged box office receipts last weekend, and the prospect of facing a similar configuration this New Year's holiday has studios all but throwing their hands up in the air, shouting "wHATEver". Their frustration is exemplified by the fact that we see no new wide releases today, leaving would-be consumers stuck with holiday leftovers from an already disappointing Christmas diet of movie releases. And we all know that January meals involve the worst ingredients left in the cupboards. Movie consumers are in serious danger of dying from starvation.

Box office analysts don't feel any better about this particular weekend, either. After all, there hasn't been a calendar configuration wherein New Year's Eve falls on a Saturday since 1994. That's the box office equivalent of the time before fire and the wheel, rendering it utterly useless for comparison purposes. What those of us foolhardy enough to make predictions have remaining in our analyst toolbox is logical deduction along with the normal hope-and-a-prayer shtick. Both are equally useful at times such as this.

What causes problems on a holiday-contained Saturday? As you will recall from last weekend, box office receipts declined significantly on Christmas Eve. Since consumers had other family matters with which to concern themselves, they lacked the free time to make it to a movie. July 4th and Labor Day, the most popular summer holidays, frequently see similar behavior since they are "outdoors" days for a lot of would-be movie-goers. New Year's Eve is frequently the same way, though not to the degree we see on Christmas Eve. People still go see matinees and even early evening showings the same as normal. The only films negatively impacted are those who will see a great deal of their business come from later exhibitions as well as those with extended run-times. You see where I'm going with this.

King Kong and The Chronicles of Narnia: The Lion, the Witch and the Wardrobe will wage war for the third consecutive weekend with Narnia poised to even the score at two wins apiece. Narnia has gradually pulled away from Kong during the weekdays between Christmas and New Year's. Entering Friday box office, the gap between December's two A-list titles stands right at $50 million. Kong now faces the harsh reality that it's wildly unlikely to overtake Narnia in the race for December supremacy.

When push comes to shove, Kong just isn't catching any breaks. We haven't seen a blockbuster with this sort of bad luck since Armageddon. Like the Peter Jackson film, Armageddon had the misfortune to come out during a terrible holiday-related calendar configuration. So, it was fighting the perception of underperformance right up until the moment people realized it finished 1998 with the most box office receipts (though Saving Private Ryan later passed it in the first quarter of 1999). Kong does seem to have a significant amount of demand, but it is the rarest of rare mainstream title that is negatively impacted by date of release.

For all the hype and extended agenda blame games played by semi-informed box office nay-sayers, date of release almost never matters – unless certain holidays are involved. The three which can really take a bite out of box office are the ones we've already discussed: July 4th, Christmas Eve and New Year's Eve. Armageddon got waylaid by the first one. Kong has born the full brunt of the other two. No one can commiserate with Peter Jackson more than Michael Bay, but Jackson won't be making that sympathy phone call any time soon since everyone in Hollywood threw away Bay's phone number after The Island's release. The point here is that we've discussed the ways a film can be negatively impacted during the December holiday period. Those are Christmas Eve on a Saturday, New Year's Eve on a Saturday, and ridiculously long run-time. Right about now, everyone here understands why King Kong would have been much better served by a November release. This is not something we say often about $205 million productions, but most of Kong's box office travails are due to no fault of its own.

Long story short, King Kong has faced an uphill battle in matching its presumed demand with the availability of its potential consumers. That situation does not change this weekend while Narnia catches a break in that most of its business comes from matinee showings. Since we know those won't be affected at all, the presumption is that Narnia will earn box office in line with its Wednesday and Thursday performances. $26.0 million sounds about right for it, whereas King Kong will not get the same bump it did Monday of last since this will be considered a three-day weekend for box office purposes. $24.9 million would indicate a $3.6 million increase from last weekend, but it still would only garner second place. That poor ape just can't catch a break. First, he gets uprooted from his home and unwillingly cast in an off-Broadway show. Now, he gets outshined by a CGI lion. Gwen Stefani would describe the whole situation as b-a-n-a-n-a-s.

As is the case with the battle for the top spot, the rumble for third place comes down to two films. It also mirrors Kong vs. Narnia in box office behavior. The Jim Carrey comedy, Fun with Dick and Jane, eclipsed Cheaper by the Dozen 2 all last week. The four -ay numbers were over $5 million better while the six-day totals put Carrey $8.5 million ahead of Steve Martin. Tuesday of this week, that dynamic changed a bit. The Cheaper sequel drew into a dead heat, then overtook Fun on Wednesday and Thursday. Using the same logic from before, matinee business should keep Cheaper by the Dozen 2 churning along this weekend while Fun with Dick and Jane should take a bit of a hit from late-night shows on Saturday. As such, Cheaper by the Dozen 2 should edge out Fun with Dick and Jane by a total of $16.2 million to $15.2 million.

The next tier of releases falls in the $7-$8 million range. Memoirs of a Geisha appears to be the best of this bunch, probably around $7.9 million. It has gradually moved up from 8th place to start the week into 6th place yesterday. Out of all the scrubs in the bottom half of the top ten, Geisha performed the best last Saturday. The expectation would be that it repeats this performance on New Year's Eve, which should give it enough breathing room to overcome Rumor Has It. The Jennifer Aniston misstep should give up the ghost by Monday, though it will probably have a misleading holdover of $7.2 million before then. Harry Potter and the Goblet of Fire is the next most likely film to make a stand, but it has too much ground to overcome. A total of $7.0 million would be a very nice performance by the oldest entrant in the top ten, though. Ninth place should be the not-expanding Munich. Without additional venues, it shouldn't do any more than $4.5 million. From there, we're reduced to talking about The Ringer, and I don't want to give it any more attention than it has already received. We'll slot it for $4.3 million and hope to never have to speak of it again.