Friday Box Office Analysis
By Tim Briody
December 24, 2005
BoxOfficeProphets.com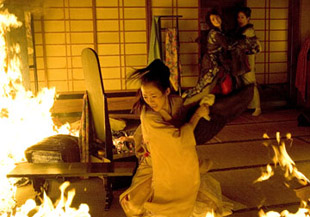 ---
Apparently Hollywood decided to clear out its junk drawer of films to end 2005, and the results generally speak for themselves.

Fun With Dick and Jane

The Jim Carrey comedy earned $5.6 million Friday, and $7.2 million over Wednesday and Thursday. It's the most successful of the holiday weekend openers for sure, but that's not saying all that much. With the calendar wackiness of Christmas falling on a Sunday, what would traditionally be excellent weekend multipliers all around will in fact be well below average ones, as Christmas Eve is a very bad box office day. Christmas Day falling on Sunday doesn't help much either, as matinees (which
would normally be very crowded in late December) will be largely deserted. None of the multiple comedies released this weekend has a "gotta see it now" factor, anyway, as the first choices this weekend are clearly The Chronicles of Narnia and King Kong. The next week will make up for it. Fun With Dick and Jane should earn around $12.8 for the weekend.

Cheaper By the Dozen 2

The family comedy sequel made $4 million Friday and $5.2 million since its Wednesday opening. Being a relatively safe choice for families helps it a little, but it seems that Yours, Mine and Ours beat it to the punch (not to mention that it looked incredibly tired, even for a sequel). Give it a shade under $10 million for the Friday-to-Sunday period.

Memoirs of a Geisha

The critically-savaged book adaptation earned $2.7 million on Friday, It's hardly comparable to last year's The Phantom of the Opera, as that managed $1.3 million on around a third of the screens of Memoirs of a Geisha. Figure a weekend total of approximately $6 million.

The Ringer

Johnny Knoxville's Special Olympics comedy managed $2.4 million Friday. The best-reviewed comedy of the new releases this weekend, it's just a wee bit too crowded out there for anything other than the big two to really stand out (I mean, six new releases and two wide expansions? Come on, already.) The Ringer should earn about $5.5 million and enjoy a long life on DVD.

Munich

Steven Spielberg's Oscar bait earned $1.4 million on just 532 screens for the best per screen average among films in the top ten (the plethora of new releases pushed Brokeback Mountain out temporarily). It stands a good chance of having a relatively decent weekend multiplier, placing it around $3.5 million for the weekend.

Notable Holdovers

In a bit of a shocker, The Chronic(what?)cles of Narnia edges out King Kong on Friday's numbers, as The Lion, the Witch and the Wardrobe falls a mere 8.71% from last Friday, a marked improvement from its 61% Friday-to-Friday decline in weekend number two. It should have a weekend tally of a hair below $20 million.

King Kong drops 42.9% from last Friday, and is virtually neck-and-neck with Narnia. The running time is actually working against it here, which is why Narnia was able to stay even with it. The week between Christmas and New Year's is when Kong should really shine, as people will have enough free time to work a three-hour movie into their schedule. A weekend total of $18.7 million should be in store for the Peter Jackson film.

Merry Christmas!