Weekend Forecast Part 2 for December 23-25, 2005
By Reagen Sulewski
December 23, 2005
BoxOfficeProphets.com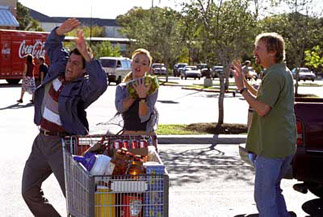 ---
A crowded marketplace gets even more so over the next few days of the Christmas Weekend, with two new films already debuted and six more high profile films on their way in wide release by Christmas Day.

The two films that debuted on Wednesday got off to, well, not very impressive starts. Fun With Dick and Jane, a satire about yuppie revenge on Corporate America, opened in third place with just shy of $4 million. Cheaper by the Dozen 2 opened just below it with $2.5 million. Both these figures leave them well off the pace that might have been hoped for. In the case of Dick and Jane, the humor seems to be missing the mark, whereas in the case of the Cheaper by the Dozen sequel, its market seems to have been poached by the recent Yours, Mine, & Ours. Both films get a revision downwards, although the family film seems more likely to recover more. Fun With Dick and Jane should then come in with around $16 million from Friday through Sunday, with Cheaper by the Dozen 2 making it in with about $14 million over the same period.

Three wide releases venture into the market on Friday, led by, at least in screen count, The Ringer. Although the Farrelly Brothers aren't the directors of this one, they do have a hand in the film as executive producers, and the film has a lot of the earmarks of their style. Johnny Knoxville stars with Brian Cox as two men who try to fix the Special Olympics. Surely it'll be easy as pie for a non-Special athlete to trump his differently-abled competition, right? Hazards present themselves when not only do they prove to be just as athletic or more than Knoxville but his required antics to "prove" he's mentally handicapped get in the way of his romantic pursuits.

While this film certainly has the potential to be completely tasteless (and therein lies a lot of its appeal), it actually comes with the seal of approval of the Special Olympics, meaning that it uses a familiar template of respecting its subjects while beating the hell out of its scummy protagonists.

Knoxville got his first starring gig outside of the Jackass area this summer with The Dukes of Hazzard, which opened to just over $30 million. While that was a classic and revered (you heard me) television adaptation, it was by no means a guaranteed hit. Part of its success has to be attributed to Knoxville, though certainly not all of it. The Ringer leaves him out on his own in a genre of comedy that has been known to fall flat on its face. The obvious example came two years ago with Stuck on You, which opened to just $9 million. I think this should fare slightly better, though a screen count of 1,829 would show a distinct lack of confidence on the part of distributors and exhibitors. Give this one $11 million through Christmas Day.

Memoirs of a Geisha is a film that has been languishing in development hell for some time; at one point it was going to be Steven Spielberg's follow-up to Saving Private Ryan (in an ironic twist of fate, it arrives in theaters the same day as Munich, also directed by Spielberg). A somewhat fictionalized novel based on the life of the class of famous artists in Japan known as Geishas, it covers one girl's rise from 1929 through the 1940s, when Japan was turned upside down by World War II.

The project carries an air of costume drama around with it, like an Asian version of a Jane Austen novel. The cast is on that level, headed by young beauty Zhang Ziyi and supported by Michelle Yeoh, the two reuniting from Crouching Tiger, Hidden Dragon (although with much less swordplay). And while these two without doubt have the followings and the novel was certainly popular, there's another thing entirely in transferring this to the screen. The film is essentially about a power struggle between artists in a culture that a large number of Americans are not familiar with. This makes it a tough sell at the best of times, and a critical savaging like it's receiving is not going to help. This looks like this year's equivalent of Phantom of the Opera, a film that comes in with all the pedigrees for success (including Oscar nominated director Rob Marshall) that is forgotten almost immediately. Opening on 1,547 screens, Memoirs of a Geisha should come in with a meager total of about $7 million.

The third new film on Friday in wide release is another film that has been on Oscar watchers' lists for some time now. Munich, directed by Steven Spielberg, tells the story of the aftermath of the 1972 Munich Olympics, in which 11 Israeli athletes and coaches were kidnapped and eventually killed by Palestinian terrorists. After the perceived masterminds of the attack are allowed to go free, the Israel government forms a task squad to hunt and kill them, wherever they might be. Eric Bana stars as the Mossad agent who heads up this mission and then must deal with his role as an avenger.

More of an espionage thriller than anything else, it comes by its buzz through the prestige of Spielberg and the famousness of the incident. But it also appears ready to tackle important questions on the international political stage, especially with terrorism as prevalent an issue as it was in that day. Reviews for the film tell a mixed story, with a decent critical reception that seems more polite than anything. End of season award recognition has been slight, with only two Golden Globe nominations so far. While it's not too late to turn it around, that will depend a lot on box office. It starts out on a smallish 548 screens, which will probably bring in with about $6 million over its first three days.

With Christmas Eve being one of the biggest dead spots in the box office calendar, some films have decided to skip it all together and launch Christmas Day, which is one of the biggest. The widest opening of these is Rumor Has It, a quasi-sequel to The Graduate. Directed by Rob Reiner, it stars Jennifer Aniston as a woman who realizes that the story of that film might actually be based somewhat on her family. Shirley MacLaine is the Mrs. Robinson in this tale, with Kevin Costner being the Dustin Hoffman. When Aniston's character discovers her family's sordid history, she becomes obsessed and confronts Costner to find out the real truth about the women in her family.

Of course, as she's already romantically involved (with Mark Ruffalo), this becomes a gender reversed repeat of the cycle of events. While the basic idea behind the story has a lot going for it, it's also in the hands of Reiner, whose last two films revolved around a quirky romantic concept and both bombed heavily. It's a long ways from the days of Spinal Tap and Princess Bride.

Critical reception has been unkind, with most putting it at a sitcom level of plot and characterization. Whether that's a good thing or bad thing of late will be left for audiences to decide. The trailers actually look reasonably clever and funny and it will have the romantic comedy market all to itself. Look for it to open with a strong $6 million on Christmas Day, but drop off after that.

Expanding into wide release is The Producers: The Movie Musical, the movie based on the hit musical based on the hit movie. Nathan Lane and Matthew Broderick reprise their roles here from the stage, as producers of a play they hope to flop, since they've attracted more investment than necessary. If it flops, there're no "profits" to be had, and thus nothing to give back to the little old lady investors.

The play is the notorious "Springtime for Hitler", a romantic paean to the days of Nazi Germany. Surely such a distasteful subject couldn't be a hit, right? The original 1968 film, penned by Mel Brooks, found the inherent comedy in Nazidom and won an Oscar for its Screenplay. In its transition to a stage musical, it won several Tony Awards. The retranslation to film seems to have become a bit more problematic, however. Jokes and musical numbers that work on stage don't always work on screen, and the broader acting styles just don't look to be working. Uma Thurman and Will Ferrell give the film a bit of a boost for star power, but ultimately it looks like this film has missed its mark. A limited engagement last weekend produced a respectable $25,000 per venue average on six screens, but this is not a number that inspires confidence for its expansion to just under 1,000 on Christmas Day. Look for about $4 million that day, and a slow trickle out of the charts.

Christmas doesn't seem like the right time of year for a horror film, although a success at this time isn't without precedent (see: Scream). Wolf Creek comes by way of Australia, where it was actually nominated for seven of that country's equivalent of Oscars. Loosely based on a series of real murders that took place in the Australian Outback, it shares a stylistic kinship with The Texas Chainsaw Massacre in striving for visceral and gory terror.

The film comes into a marketplace that has rediscovered a love for cheap horror, although a similar situation surrounded the release of High Tension this summer, a French slasher that only brought in $4 million total despite a high profile release. This looks better than that film, but without familiar stars it could have trouble in the marketplace. Opening on 1,749 screens, it should bring in about $3 million on Christmas Day.

Which brings us (finally) to our returning films. The weekend box office battle will be waged between the number one films of the past two weekends, King Kong and The Lion, the Witch and the Wardrobe. Kong's opening weekend was a stunning figure, in that it was a much as $40 million less than many expected for its first five days. Working in its favor is that much of the early reception of the film is ecstatic, although that appears to be cooling off a tad. It comes into the weekend with about $90 million in the bank, facing two anomalous days on the weekend.

The last time this iteration of the Christmas calendar rolled around, it was 1994, which doesn't help much for box office analysis. Still, on that weekend 11 years ago, the majority of films held most, if not all or more, of their box office from the previous weekend. Week-to-week drops have of course increased significantly since then, but the basic patterns should hold. Kong was actually passed in the box office in the midweek period by the Narnia film, although at three hours, it is especially punished by the lack of available screenings. Look for a strong holdover of about $38 million this weekend.

The Lion, The Witch and the Wardrobe tumbled a little more than 50% from its $60 million plus opening weekend, which is probably to be expected, if lamented by Disney. It enters the weekend with about $130 million and has been playing strong through the week. As the primary family film out there, combined with the apparent failing of Cheaper by the Dozen 2, this film could find itself in a windfall position. Give it about $27 million from Friday through Sunday.

The Family Stone captured third place last weekend as the compromise family comedy, earning $12 million. Its main competitor is Rumor Has It, although as we've seen of late, getting first out of the blocks might just be everything. Rachel McAdams may just quickly be becoming the hottest young actress out there as well, and her presence in the film is doing a lot of its heavy lifting. In particular, its Christmas Day should be very strong, with it earning about $9 million from Friday to the 25th.

A moderate expansion for Brokeback Mountain brings the film to 217 screens from its previous 69. Putting up gaudy numbers in limited release and nearly sweeping critical awards, this film seems destined for major Academy Awards attention at this point. Even so, I suspect that mainstream success for the film will be harder to find, though the homosexual cowboy romance is winning over arthouse audiences by the droves. It cracked the top ten last weekend, and although that will be much more difficult with all the new releases, it should still bring in a decent $3 million on these screens.