Black Friday Box Office Analysis
By Tim Briody
November 26, 2005
BoxOfficeProphets.com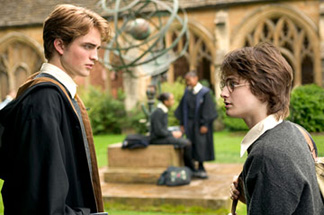 ---
Black Friday is traditionally one of the strongest box office days of the year. Even with this year's struggles and two outright bombs among the new releases, 2005 was no exception.

Harry Potter and the Goblet of Fire

Earning $22.7 million Friday, the Harry Potter juggernaut continues to roll. Harry Potter and the Sorcerer's Stone was the other Potter movie to have its second weekend occur over the Thanksgiving holiday weekend, and Goblet of Fire is behaving oddly similar. The Sorcerer's Stone went on to a $57.5 million weekend in 2001, and I expect something similar from Goblet of Fire here. Don't sweat the decline; when dealing with numbers this big, it's inevitable.

Walk the Line

Walk the Line's $7.8 million Friday is virtually the same amount it earned on its opening night last Friday. This is fairly typical for the holiday weekend (last year's holiday winner, National Treasure, improved on its first day figure by almost $2 million). This is tempered by solid earnings over Wednesday and Thursday and then a weak Friday-Sunday multiplier. Still, look for $19 million for the weekend as it begins to establish itself as a very strong Oscar contender.

Yours, Mine and Ours

The film that is not the sequel to Cheaper By The Dozen (that actually comes out next month) took in a not-great, not-terrible $6.9 million Friday on top of the $7.2 million it earned on Wednesday and Thursday. Last year's family offering, Christmas with the Kranks, went on to a $21 million three-day weekend off a Friday figure of $8.8 million. Thanksgiving weekend means relatively crappy internal multipliers all around, so something around 2.4 would give Yours, Mine and Ours $16.5 million over three days and $23.7 since Wednesday.

Rent

The theatrical smash of the mid-'90s turned feature film earned $4.3 million Friday, but $7.4 million in its first two days of release. That's a pretty big sign that a lot of the original cast and recording fans went and saw it on its opening night, and does not bode well for the remainder of the weekend. Figure a bit under $10 million for the weekend and just over $17 million since Wednesday.

Just Friends

The Ryan Reynolds fat-suit comedy made $3.7 million Friday and $4.3 million on Thanksgiving Eve and Turkey Day proper. Non-holiday associated comedies are such an odd duck this time of year that there aren't too many proper comparisons, but this weekend isn't terribly kind to any particular kind of film. I'll give Just Friends around $8.5 million over the weekend and $12.8 in five days.

In the Mix

The Usher vehicle released in just 1,600 theaters earned a mere $1.7 million Friday. Things won't improve over the rest of the weekend so In the Mix should end up with about $4.2 million for the weekend and $5.9 million for five days.

The Ice Harvest

Also bombing this weekend is The Ice Harvest, with $1.4 million Friday. There's not much more to say about the dark comedy caper, other than it should earn $3.6 million in three days and $4.9 in five.