Weekend Forecast for November 25-27, 2005
By Reagen Sulewski
November 24, 2005
BoxOfficeProphets.com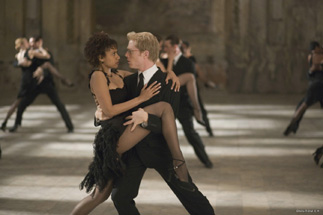 ---
A typically busy Thanksgiving Weekend at the box office sees five new films enter the marketplace, with one major expansion. However, it's still all about Harry Potter.

The 400-pound-gorilla of the box office, the Harry Potter franchise set another record last weekend by opening its fourth film, Harry Potter and the Goblet of Fire, to $102 million, setting a new November opening weekend record as well as becoming the fifth-highest opening of all time. This franchise has shown a steady but slight increase in its opening weekends even as its overall box office falls, though the upcoming Thanksgiving weekend, a boon to all films and family films in particular, may reverse this trend. Pent-up demand for this adaptation, generally regarded as the best of the books so far, was tremendous. What remains to be seen is whether the steady creep to DVD that has shrunk most blockbusters this year will continue to hit the Harry Potter series hard.

The third edition of this series, Harry Potter and the Prisoner of Azkaban, fell a startling 62% in its second weekend, showing that like any other film, its demand had a limit and it was indeed subject to front-loading. There was also the matter of a June release, which probably led to a great proportion of that. The cushion of the Thanksgiving weekend should drop it to just $69 million, with another $28 million on the holiday Wednesday and Thursday, giving it $97 million more over five days, putting it at $215 million after two weekends.

The biggest challenge to the film, though it hasn't a hope of catching the top spot, is Rent, the adaptation of the incredibly popular Broadway musical. Directed by the unlikely-seeming choice of Chris Columbus (who, in one of those coincidences that seems to be happening more and more often, was the director of the first two Harry Potter films), the film brings most of the original stage cast to reprise their roles almost ten years after they debuted. Some have since become a lot more famous, including, for one notable example, Taye Diggs.

Based loosely on the Puccini opera La Boheme, Rent covers a group of young urbanite artists in New York City struggling with life, love, the specter of AIDS and, uh, the rent. One of the longest-running shows in the history of Broadway, it is notable for being one of the few to tackle AIDS and homosexuality. It found a devoted audience for its shows and original cast recording, who can no doubt to be expected to come out in force this weekend. The movie musical is still a bit of a tough sell even after the revival the genre has gone through recently; while Chicago was a critical and box office sensation, last Christmas's Phantom of the Opera was a huge bomb, sending Joel Schumacher scurrying back into his hole. The relatively contemporary nature of Rent should make it more accessible, although it will probably do little to attract new viewers. Debuting on around 2,400 screens, Rent should bring in around $14 million over the weekend, and $20 million over five days.

Why a family film would attempt to compete in the same marketplace as a Harry Potter film is beyond me. The makers of Yours, Mine, & Ours are about to learn the same lesson as the makers of Zathura: when the big dog barks, you get out of the way. This film, a creaky remake of a Lucille Ball/Henry Fonda film (not to mention being almost entirely the same film as Cheaper by the Dozen), stars Dennis Quaid and Rene Russo as widowed spouses with eight and ten kids respectively who fall in love and attempt to create the uber-Bradys. He's an admiral in the Navy, she's a hippie handbag designer and oh the wacky adventures they'll have. Judging from the trailer, this will consist mostly of Quaid's character falling into various traps and messes that would likely entail a hospital visit were we not in fantasy slapstick land.

Running into the Potter juggernaut, this film is likely to get buried despite the overall family friendliness of the holiday. Look for it to bring in just over $10 million over three days and $13 million in five.

The comedy option for older audiences this weekend is Just Friends, starring Ryan Reynolds. A raucous sex comedy (does he make any other kind of movies?), Just Friends is clearly trying to recapture the same phenomenon of There's Something About Mary. Reynolds stars as a formerly fat (why does everyone in a fat suit look like Martin Short?) womanizer who was rejected by his dream girl in high school with the phrase of the title. Now a success, and, aha, thin, he returns home to try and win her over. Of course, he's now quite the catch, and he has to deal with the advances of an ex, a bubbleheaded sex kitten played by Anna Faris, as well as a local jock (played by Chris Klein) who is also after his dream girl.

Ads for the film have been fairly underwhelming, and a lot of the appeal of the movie might be in how badly you need to see Amy Smart or Anna Faris in something, or how badly you want to see Ryan Reynolds beaten up by toddlers. Surprisingly, it's gotten a handful of decent reviews (though not from Roger Ebert, who eviscerates it), which leads me to believe this could find something of a cult following, but immediate success seems unlikely. Look for it to bring in around $7 million this weekend, $9 million over the entire holiday period.

The Ice Harvest is a return to black comedy for director Harold Ramis, director of legendary films like Caddyshack and Groundhog Day. Set on Christmas Eve, this film is a heist movie, featuring John Cusack as a lawyer-turned-bumbling criminal, who sets out to rip off the Mob. Cause, you know, that always turns out well. Recruiting local strip club owner Billy Bob Thornton and stripper Connie Nielsen to help him out, the plan goes off without a hitch. Well, until a freak storm hits, throwing wrenches in everyone's plans.

The wacky caper genre has been one of the toughest to pull off well in recent years, with The Ice Harvest bearing more than a little resemblance to another holiday-themed film, Lucky Numbers, which landed with a thud in October of 2000, making $10 million total despite (or perhaps because of) a cast that included John Travolta, Lisa Kudrow, Bill Pullman and Tim Roth. We somewhat worship the ground that John Cusack walks on here, so we're really hoping for the best for this film, but the trailers have completely failed to inspire us. Getting a modest release of just 1,500 screens, it shouldn't be counted on as a major factor this Thanksgiving weekend, bringing in just $5 million over three days and $7 million over the holiday.

Expanding this weekend is Pride and Prejudice, which leaps to over 1,200 screens after cracking the top ten for two straight weeks on just over 200. Jane Austen fans are a feisty and determined bunch, and this adaptation of one of her most popular books has proven to be another stealth arthouse hit. Starring Keira Knightly and a group of British actors mostly unknown on American shores, Pride and Prejudice has still earned $6 million in two weeks of limited release. With the jump in screens, it should move up to around $6 million over the Friday-to-Sunday period, and $9 million counting from Wednesday.

In the Mix is a potential star vehicle for R&B star Usher, and I use the word potential here for a reason. A sort of low-rent Bodyguard, it starts mini-Michael Jackson as a DJ who saves the life of a Mafia princess and is hired to protect her by her father. Rule #1: Never Fall in Love. Wait, wrong movie. Also starring Emmanuel Chiriqui (best known either as cannibal bait in Wrong Turn or as the romantic rival of Mischa Barton on The O.C. for Olivia Wilde) and Chazz Palminteri, it's been receiving little support, less buzz, and even less critical backing. Like some of the bad Nick Cannon output of the last little while, look for this to come in at around $4 million over three days, and $5 million over five.

Last weekend's number two film was the Johnny Cash biopic Walk the Line, which opened to $22 million and a heapload of critical praise. One of the few viable options for adults not interested in wizards and spells, this film should have a very lucrative Thanksgiving weekend. A very solid holdover of around $19 million for three days and $26 million over five should also put it into the thick of the Oscar race.

The final holdover of interest is Chicken Little, which had the sky fall on it in its third weekend after an impressive two-week run at the top of the box office. It's got a decent shot at being the number two family film of the weekend over Yours, Mine, & Ours (in fact, I'd bet on it), sliding in with $11 million on the weekend, and $16 million over the holiday period.