Friday Box Office Analysis
By Tim Briody
November 19, 2005
BoxOfficeProphets.com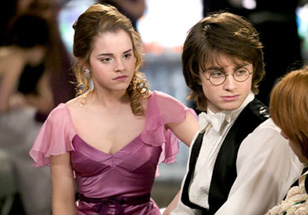 ---
Box office is so bad this year, I had almost forgotten that there were numbers this large.

Harry Potter and the Goblet of Fire

With a $35.6 million Friday, the fourth entry in the Harry Potter series is off to a flying start. That figure would be the sixth-highest single day number, though a few million off from the third film and fourth-place holder, The Prisoner of Azkaban, with a first-day figure of $41.2 million. The two November Harry Potter films have found themselves with Friday-to-Sunday multipliers of 2.79 and 2.98 respectively, while Prisoner of Azkaban (a June release) was dialed down to a 2.44. Given the midnight showings and the changing box office trends over the last three years, Goblet of Fire's multiplier may be closer to the latter than to the former. I'll be conservative and go with a 2.6, which gives Goblet of Fire $92.5 million for the weekend, making it the franchise's second biggest opening, right behind Prisoner of Azkaban.

Walk the Line

The Johnny Cash biopic opened to $7.7 million Friday, a decent number in the wake of Pottermania. Earning $1 million more opening day than Ray, its best recent comparison, look for solid audience word-of-mouth regarding the performances over the weekend and its entire theatrical run. Ray managed a multiplier just under 3.0 on its opening weekend and I look for something similar here from Walk the Line. Give the Joaquin Phoenix/Reese Witherspoon film $22.3 million for the weekend.

Notable Holdovers

With last Friday being Veteran's Day and Harry Potter being released yesterday, the sky falls on Chicken Little, down 70% from last Friday. The drop should theoretically improve greatly over the remainder of the weekend, but it's probably a 60% weekend decline at best. The other family film in theaters, Zathura also collapses in the presence of Harry Potter, off 71.5% from a Friday ago. A weekend decline of 60-65% is also in store here.

Derailed also goes completely flying off the tracks, off 55% from last week. Note to Jennifer Aniston: wake us up when your movie with Vince Vaughn comes out.

50 Cent's Get Rich or Die Tryin' falls and falls hard, down 71.5%. Yes, I can tell you're all stunned by this news.

Lastly, Pride and Prejudice drops 37.8% from last Friday, but it manages to stay in the top ten on just over 200 theaters, an impressive feat nonetheless.