Friday Box Office Analysis
By David Mumpower
November 12, 2005
BoxOfficeProphets.com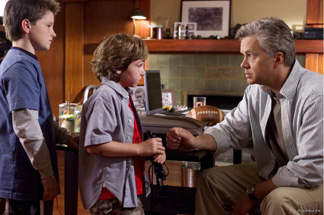 ---
Four new films entered the box office fray this week, but it was a bobblehead Chicken who egged the competition again on Friday.

Zathura

The de facto Jumanji sequel wasn't afraid of a little competition from Chicken Little. Jon Favreau's third directorial effort performed right in line with expectations on Friday, earning $5.3 million. The family-friendly film may have seen its box office artificially inflated on Friday due to the Veteran's Day holiday in the United States. The other two similar titles in release, Dreamer: Inspired by a True Story and Chicken Little, experienced surprisingly strong holdovers. As such, Zathura's multiplier probably won't be as strong as would normally be expected. More money on Friday should be indicative of relatively uniform performance on Saturday (say $6.0 million) followed by the normal Sunday decline. I expect a weekend in the neighborhood of $15.5 million for Zathura.

Derailed

The Jennifer Aniston/Clive Owen project opens to a very solid $4.6 million. Owen shows yet again that he's a mid-level star one big picture away from moving into the upper stratosphere of celebrity. Unfortunately for movie lovers, that project is not going to be James Bond. Ah well. There's always King Arthur 2. Derailed does not seem as likely to have seen a spike on Friday due to the holiday. This anomaly appears to be isolated to family films only. As such, I'm expecting a 2.9 multiplier, indicating opening weekend performance of roughly $13.3 million. For a project so universally reviled by critics, that's not bad at all.

Get Rich Or Die Tryin'

50 Cent, or as I call him, Fitty, is no Eminem, but he does bring in $4.5 million on Friday. Factoring in prior box office, the 8 Mile wannabe stands at $13.8 million after three days. It should have no problem hitting $20 million over the five days, bringing in about $11.7 million over the weekend frame. This opening falls somewhere in the middle of the logical extremes mentioned in the title. Fitty isn't going to be able to splurge on any full body tattoos with these receipts, but he probably could buy a new gold tooth if so inclined.

Pride and Prejudice

There was no expectation for this film to be discussed in the Friday update. Surprising receipts saw it accrue $1 million from 215 venues. Given the nature of the platform release, the Mr. Darcy love-fest should have no problem bringing in a strong multiplier. Weekend box office in the amount of $3.3 million would be in line with this day one performance. Should that happen, the ghost of Jane Austen would be thrilled to know it's a per-venue average in excess of $15k. Score one for emotionally unavailable men!

Holdovers

Feast and famine is the best way to describe the performances of the two big holdovers from last week. Chicken Little increased $700k with $11.4 million. Even factoring in the holiday, this is jaw-dropping in the current box office climate. Films just don't increase in week two any more, particularly ones that were huge on opening weekend. Disney just earned major bragging rights in their on-going semi-polite war with DreamWorks (and Pixar). Meanwhile, Jarhead got concussed. After a strong $10.7 million debut last Friday, the Jake Gyllenhaal project earned only $4.3 million yesterday. That's a decline of 60%, indicating that everybody who saw the project showed up opening weekend. Jarhead might not have the legs needed to be a major Academy Awards contender.