Weekend Forecast for November 11-13, 2005 - Wednesday Update
By Reagen Sulewski
November 9, 2005
BoxOfficeProphets.com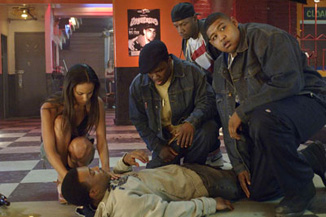 ---
Getting a jump on the weekend with a Wednesday release, Get Rich or Die Tryin', the film debut of Curtis Jackson, aka 50 Cent, hopes to turn the platinum selling rapper into a legitimate screen presence in much the same way 8 Mile did for Eminem three years ago.

Of course, you remember the huge breakout weekend that film had on this same weekend in 2002, opening to $51 million. Following the formula of a sports movie, that film followed the rise of a young rapper in Detroit amidst slums, dead-end jobs and random violence. It's only fitting then that his protege, 50 Cent, would get a semi-but-not-really-autobiographical movie of his own. Get Rich or Die Tryin', titled after his debut album, is this movie, and covers the rise of a young street tough from drug dealer to rap artist.

Jackson, as he'll tell you till you're sick of it, was shot nine times as a drug dealer before getting a record deal, which lends some credibility to his persona a story here, a quasi-Godfatherish tale. Directed by, and this is a bit of a shock here, Irish director Jim Sheridan (most recently known for In America), it would seem to have a modicum of respectability to it, although critics ain't buying it. It has the great sniff of the Vanity Project, and while no Glitter (although it's getting only slightly better reviews), it's not really the answer to 8 Mile that may have been hoped.

One can't overlook a couple of other factors here, some commercial, some cultural. There's no pop-radio friendly single promoting the film, although the soundtrack is sure to sell briskly (it's worth noting that his last release is still #4 on the Billboard charts, although as we often see from TV adaptations, those don't equate 1:1 with ticket sales). 50 Cent is not as popular overall or well known a figure as Eminem, who was (deservedly) getting Oscar buzz for his performance at the time. In addition, and although Kanye West and Spike Lee are already busy penning angry letters to the editor, Eminem as a white rap artist was able to cross over more effectively than 50 Cent.

In the end, it's all about the movie though. It's opening on around 1,600 screens this weekend, without quite as much awareness or critical support as other musician-turned-actor's movies. Although it remains a potential breakout film, it will likely be limited to about a $14 million weekend, and close to $20 million over five days. Come back Friday for a full weekend preview.