Friday Box Office Analysis
By Kim Hollis
October 22, 2005
BoxOfficeProphets.com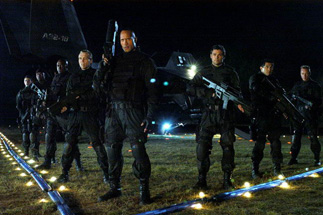 ---
Doom came to theaters this weekend, and not in the form of Dakota Fanning as you might imagine.

Doom

Based on the extremely popular first person shooter video game, Doom was able to take advantage of fanboys to the tune of $6 million on Friday. Given the fact that there should theoretically have been an early rush to see the film, the movie is likely to fall hard and fast over the remainder of the weekend as well as in the coming days. Best case scenario here is probably a 2.5 multiplier, which would give Doom a debut of $15 million and first place.

Dreamer: Inspired by a True Story

The aforementioned Dakota Fanning and her horsey friend provided a bit of a surprise this weekend as the family flick took in an estimated $2.8 million on Friday, trumping North Country, which many forecasters had expected to beat it with regards to box office power. With the kid-friendly subject matter, the movie should have a decent weekend multiplier, too. A 3.1 would give Dreamer $8.7 million for its first three days and a pretty decent start at what should be a solid run.

North Country

Despite the fact that Charlize Theron has gotten plenty of attention for her performance in this film, it was always going to be a tough sell for audiences. By all accounts, the subject matter can be fairly tough to digest - people simply don't want to look back and remember the time when it was acceptable to torment female co-workers in an appalling manner. The film had a Friday total of $1.9 million and should ride a 3.0 multiplier to a $5.7 million weekend.

Stay

For those of you who are fans of either Ewan McGregor or Naomi Watts, get ready for disappointment. The psychological thriller didn't even manage to crack the top ten on Friday.

Notable Holdovers

The Fog held up pretty well for the genre. It dropped 46% from last Friday, which should mean it will level out for a weekend drop of around 40%. That would give the John Carpenter remake a solid $7 million weekend, which goes a long way toward explaining why studios keep cranking these things out. They're cheap, and ultimately profitable.

Elizabethtown, on the other hand, dropped a fairly rough 50% from last Friday. The good news, though, is that since director Cameron Crowe and star Orlando Bloom have a certain fan base that was likely to rush out and see the movie on opening day, it should level off some during the rest of the weekend and also in the coming weeks. Look for Elizabethtown to tally $5.8 million in weekend number two.