Weekend Forecast for October 14-16, 2005
By Michael Bentley
October 14, 2005
BoxOfficeProphets.com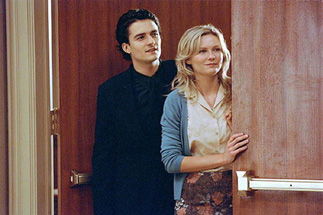 ---
A trio of new wide releases enters the marketplace this weekend, each hoping to earn their share of the loot. One might be described as a coming-of-age romance, a second as a remake of an old horror favorite, and the third as a kinetic action biopic.

Leading off is fan-favorite Cameron Crowe's newest picture, Elizabethtown, arriving in 2,517 theaters. Starring teen heartthrob Orlando Bloom and Spider-Man's love interest Kirsten Dunst, Elizabethtown is the tale of a successful businessman who loses his job and then goes to tiny Elizabethtown, Kentucky for his father's funeral. He falls in love with a flight attendant and good things start to happen to him again, as his life is reenergized.

Crowe has built a career on making approachable, honest movies with killer soundtracks. Each of them have become well-liked by a multitude of faithful fans, and as with all great directors everyone seems to have a different favorite. Two of the more iconic cinematic moments in recent years have been Lloyd Dobler playing Peter Gabriel's In Your Eyes on a boom box over his head in Say Anything..., and the band and roadies of Stillwater singing along to Elton John's Tiny Dancer in Almost Famous.

But this is far from a sure thing. The problem for Crowe and studio Paramount Pictures is threefold. First, Tom Cruise does not appear in Elizabethtown. That wouldn't be an issue if it weren't for the fact that Crowe's only two box office hits were Jerry Maguire and Vanilla Sky, which each starred the psychology expert. I'm not quite glib enough to suggest that Orlando Bloom is the moneymaker that Cruise is. Second, Vanilla Sky was terrible. Will people still have that bad taste in their mouths, or will they have erased it from their memories? Which brings us to problem three: despite the fact that several of Crowe's previous efforts have been critical darlings, this movie isn't exactly winning them over. It was roundly criticized at the Toronto International Film Festival and the final, somewhat shorter, edit hasn't fared much better so far with just 27% of the early reviews being positive at Rotten Tomatoes.

Does any of this matter? Odds are, fond memories of kickboxing and golden gods will rule the day and this will be the date movie of the weekend. Figure on about $16.5 million and healthy legs to follow.

Next up in the opening weekend lineup is a remake of John Carpenter's The Fog. The story is unique take on the classic ghost genre, about a mysterious (and deadly) fog that sweeps across a sleepy town, a hundred years after a fog caused the shipwreck and deaths of the seamen on board. Now the fog has awakened and is intent on causing more misery. Selma Blair takes the lead role as a radio DJ.

Horror remakes have been a mixed bag of late, with plenty of hits and misses. At the positive end of the scale are things like The Amityville Horror which stole nearly $24 million in its opening frame back in April. But one of the better comparisons for The Fog might be Assault on Precinct 13, also a remake of a Carpenter film, which opened to less than $7 million earlier in the year. Given the very poor early reviews (it wasn't even screened for critics, which is always a dire sign), this may not do much better. The pairing of supporting stars Tom Welling from cult-fave Smallville and Lost's Maggie Grace may help sell five or six more tickets. And throw in some extra sales due to the time of year (hint: pumpkins and black cats). It's the widest opener of the week at 2,972 locations, so call it $13.7 million, with a little life until the end of the month, and then a crash and burn.

The third and final new wide release of the weekend is Domino. Keira Knightley is the main attraction in this film based on real events about Domino Harvey (daughter of actor Laurence Harvey), a glamorous fashion model who quit her job to become a bounty hunter. The highly stylized non-linear movie is directed by Tony Scott who is no stranger to success, as he helmed such action hits as Top Gun, Crimson Tide and Spy Game. Beverly Hills 90210 graduates Brian Austin Green and Ian Ziering even pop in for an appearance.

One the surface, the movie looks and sounds pretty good. Unfortunately, though, it is getting skewered by critics in early reviews and is just 13% fresh so far at Rotten Tomatoes. Not only that, Domino just might be too unusual for mass audiences. Even the presence of Knightley, who has had her share of hits in Pirates of the Caribbean and Love Actually (Coincidence? I think not.), might not be enough. Surfacing in 2,223 theaters, Domino may have to settle for finding a bigger audience on DVD as it lands with about $8.5 million this weekend.

A number of returning films will jockey for position this weekend. The returning champ, Wallace and Gromit: The Curse of the Were-Rabbit, hopes to capitalize on its strong word-of-mouth and good reviews. A good comparison might be last year's Shark Tale which opened in early October and fell a respectable 34% in week two. Expect a similar decline for about $10.6 million for the weekend and a possible race for second place if a couple new releases stumble.

Curtis Hanson's In Her Shoes has had positive feedback and could have some steady legs; it has even been number one on the weekdays this week. It will score again with females - especially those who opt out of Elizabethtown - and will likely fall 35% to just under $7 million. The other three movies in their sophomore frames (Two for the Money, The Gospel, and Waiting) all face considerable efforts to remain viable in the crowded market. Each will fall close to 50%, giving them about $4.4, $3.7, and $3 million respectively. Flightplan, which has become a bonafide hit, stays in the mix and will drop about 25% more to $8 million in its fourth week of release.

Elsewhere several movies are opening in very limited release. Loggerheads follows the journey of a man looking to save the loggerhead turtles in North Carolina. Nine Lives is an anthology of nine short stories about different women, with a very impressive cast including Glenn Close, Ian McShane, Dakota Fanning, and Sissy Spacek. Finally, in the NC-17 rated Where the Truth Lies a journalist aims to find the decades-old truth about a mysterious incident involving entertainers Lanny Morris and Vince Collins.