Wallace Shines, But Waiting, The Gospel Real Winners at the Box Office
Weekend Box Office Wrap-Up for October 7-9, 2005
By John Hamann
October 9, 2005
BoxOfficeProphets.com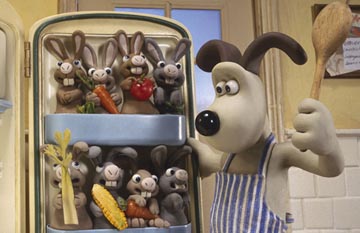 ---
It's another one of those weekends. The new films, and even the holdovers, had a whole bunch of potential this weekend, but failed to draw significant overall numbers into local movie theatres. New films this weekend include Aardman's Wallace and Gromit: Curse of the Were-Rabbit, In Her Shoes with Cameron Diaz and Shirley MacLaine, Waiting, the gross-out restaurant movie with Ryan Reynolds, and lastly Gospel, aimed at the Sunday morning crowd. Holdovers included Jodie Foster's surprisingly leggy Flightplan, arthouse A History of Violence, and the second (and very key) weekend for Joss Whedon's Serenity.

The number one film of the weekend is Wallace and Gromit: Curse of the Were-Rabbit, which got off to a fairly good start. Wallace and Gromit, heroes of the Aardman Universe, took in $16.1 million this weekend from a summer-like 3,645 venues. While the opening isn't bad, the DreamWorks release had to be looking for at least $20 million over the Columbus Day Weekend, and failed to live up to that billing. At the very least, DreamWorks had to be hoping to equal the success of Chicken Run's open, which came in at about $17.5 million, but it opened at only 2,491 venues. Chicken Run had a per-venue average over $7,000; Wallace and Gromit's venue average came in at a much lower $4,417. The Curse of the Were-Rabbit had everything it needed to break out: a big cult following for starters, but it also had some of the best reviews of the year on its side as well. Personally, I thought the ad campaign was late and not overly inspired, but the crowd at my screening of The Corpse Bride sure seemed to like the trailer. One hundred reviews were counted at RottenTomatoes, and only four, yes four, were negative. Word-of-mouth here should be quite good, and we're already seeing signs of it. After a Friday gross of about $4 million, Wallace and Gromit had a weekend multiplier (Friday gross divided by weekend gross) of about 4.0, which is quite good even considering the holiday Monday. With school in session Friday, the kiddies can't get out in summer-like numbers on the first day of the weekend, meaning the multiplier gets inflated. The holiday Monday leads to stronger Sunday numbers, and if you check in with BOP's Monday Morning Quarterback, you can get a figure on how W&G did over the long weekend. Last point: with Chicken Run, DreamWorks put a lot of effort after opening weekend into making that animated film a $100 million winner (Chicken Run finished with about $107 million). Because that one was a June release it had summer on its side, but at least Wallace and Gromit don't have any animated competition until Disney's Chicken Little hits screens in early November. I really hope that this one can find similar success to that of Chicken Run.

Second spot this weekend is Flightplan, a film that I have to admit is more leggy than this analyst thought it would be. The Jodie Foster flick grossed another $10.8 million this weekend, down a slim 27% compared to the previous weekend, thanks in large part to the holiday Monday. Last weekend the thriller dropped 40%, so it is trending in the right direction. Flightplan is proving that Foster is still a big draw, as Flightplan now looks to be heading toward $100 million, although it will probably come up a little short. Having seen this movie, I'm scratching my head a little, but its total so far of $60.9 million shows that it found an appreciative audience out there somewhere, somehow.

In at third is In Her Shoes, Cameron Diaz's first on-screen appearance since Charlie's Angels: Full Throttle, released in 2003 (of course she was in the $440 million earner Shrek 2 last year). The film, which co-stars Shirley MacLaine and Toni Collette, opened to an okay $10 million this weekend, from 2,808 venues. It had a venue average of $3,570. Based on a book by Jennifer Weiner, In Her Shoes did not have a lot of buzz heading into the weekend, but was boosted by better-than-average reviews, and positive preview screenings in the last frame. At RottenTomatoes, critics were kind but not over-the-top. Of the 103 reviews counted, 73 were positive, leading to a fresh rating of 71%. Considering the pedigree of director Curtis Hanson (Wonder Boys, LA Confidential), its star and co-stars, one might think this would review better. While most likely not an expensive film to make, the cast would have been costly, so Fox will be hoping for a good hold next weekend.

Fourth goes to our next opener, Two for the Money, the Al Pacino/Mathew McConaughey sports betting film (if In Her Shoes was a chick flick, this is its opposite). Two for the Money carried some ugly reviews heading into its debut, leading it to an opening weekend figure of $8.4 million. This one opened at 2,391 venues (a figure that tells me distributor Universal didn't like it so much), and carried a venue average of $3,504. The good news here is that Two for the Money was made on the cheap. Universal and partners spent only $20 million on this one, which in the end will make this one a great gamble.

Fifth spot goes to the surprise of the weekend (at least for this analyst), as The Gospel takes in more than tracking or analysis had indicated. The Gospel, from Rainforest Films and distributed by Screen Gems, earned a powerful $8 million from only 969 venues, resulting in an uplifting average of $8,255, far and away the best average in the top ten. The Gospel was made for only $5 million, and is another in what's becoming a long list of religious features to make some serious cash at the box office. Like Diary of a Mad Black Woman, which made $50 million at the domestic box office, The Gospel should have a good run once the news of its successful first weekend gets out.

Sixth goes to The Corpse Bride, Tim Burton's solid opener that has been surprisingly weak since its debut. This weekend the Bride earned $6.5 million, down a large-for-the-long-weekend 35%. The Corpse Bride, which cost WB about $40 million to make, has now earned $42.1 million, and should finish with about $65 million.

Seventh spot goes to Waiting, Ryan Reynolds' latest attempt at being funny. The gross-out restaurant movie earned a slight $5.7 million this weekend from 1,652 venues. The Lions Gate release had a venue average of $3,450. Considering Waiting had few stars (Reynolds, Anna Faris and Justin Long), and a first-time director, expectations couldn't have been too high. Now for the really good news for all involved: Waiting, according to Reynolds, was shot for $1 million (yes, one million) over a four-week period. This means that Waiting is even better off this weekend than The Gospel. Funnily enough, Waiting is being distributed by Lions Gate, who got Diary of a Mad Black Woman out to audiences. In fact, Lions Gate is heading toward studio of the year status, as they have released Diary ($50.4m), Crash ($55m), The Devil's Rejects ($16.9m), and now they have Waiting, with Saw 2 and A Good Woman waiting in the wings. Waiting may be critically reviled (32% fresh at RT), however Lions Gate already has what it needs from this one.

Eighth is a bit of a surprise, as A History of Violence slid harder than I expected after getting off to a good start last weekend. After earning a solid $8.1 million last weekend, the David Cronenberg flick fell 37% this weekend after adding zero screens, to a gross of $5.1 million. Still at 1,340 venues, the Viggo Mortensen flick had a venue average this weekend of $3,824. The New Line release currently sits with $16.7 million.

In at ninth is Joss Whedon's Serenity, which needed a solid follow up weekend but unfortunately didn't get it. Serenity couldn't play past the built-in audience, and it grossed $4.9 million this weekend. That's a drop of 51%, hurting Universal's chances of recouping the $40 million spent on this one. So far, Serenity has earned $17.6 million, and will struggle to earn $35 million.

Tenth goes to Into the Blue, which will hopefully push Paul Walker towards retirement. Into the Blue grossed $4.8 million this weekend, down 32%. So far this one has earned $13.9 million.

Finishing in 11th this weekend is The Greatest Game Ever Played, which earned 10% more than last weekend after Buena Vista added almost 800 screens. Game earned $4 million this weekend from 1,810 venues, but still had to settle for a disappointing venue average of $2,216. So far, this one has earned $8.8 million.

Overall this weekend, things still aren't very rosy at the box office. The top ten this year earned about $80 million, well back of last year's $95 million. Next weekend we get The Fog, Elizabethtown and Domino, so maybe things will perk up a bit next weekend. On the other hand, I wouldn't bet on it.