Friday Box Office Analysis
By Tim Briody
October 1, 2005
BoxOfficeProphets.com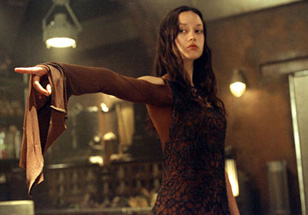 ---
As the Yankees battle the Red Sox to determine the American League East champion, the real question this weekend is "how much did Serenity earn?"

Serenity

The Mutant Enemy production (it does feel good to write those words) opened to $3.9 million Friday, a not bad total for what is essentially a cult film. It might not produce a terribly great weekend multiplier, however. I'll go with a 2.7 multiplier, giving Serenity a $10.5 million weekend.

A History of Violence

Expanding into 1,350 theaters, the David Cronenberg film took in $2.5 million Friday. Extremely well received by critics, a decent Friday-to-Sunday multiplier might be in order in spite of (or perhaps because of) the subject matter. A 3.0 mutliplier would give A History of Violence a $7.5 million weekend.

Into the Blue

With a $2.4 million Friday, we could theorize that most of this film's audience went to see Serenity. Or we could just go with the obvious and mention that the movie stars Paul Walker. Either way, it's not a very good tally for what was arguably the highest profile release of the weekend. Give it a 2.7 multiplier and a mere $6.5 million for the weekend.

The Greatest Game Ever Played

There apparently wasn't enough room on the marquee to finish the title with "That Nobody Has Ever Heard Of." The Disney golf movie earned a little under $1.1 million on barely over 1,000 screens Friday. While getting mostly positive reviews, the family film will end the weekend with around $3.5 million.

Notable Holdovers

Flightplan falls a rather high 47.4% from last Friday, but managed to cling to first place as Serenity wasn't able to top it. The Jodie Foster film directed by Robert Schwentke will have a weekend decline of around 45% and first place finish with $13.5 million.

The Corpse Bride may be a little bit too quirky, falling an alarming 57% from a week ago. It managed a decent multiplier last weekend and that should continue this weekend, getting its overall decline to around the 50% mark and a $10.4 million weekend.

Roll Bounce hangs in the top ten in the wake of four new releases, down 57.4% from the previous Friday. It should take in about $3.5 million for the weekend.