Friday Box Office Analysis
By Kim Hollis
September 24, 2005
BoxOfficeProphets.com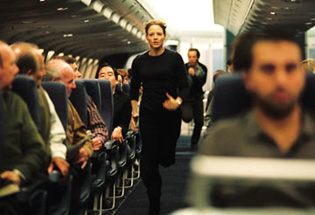 ---
After seeing the box office do some decent business last weekend, it looks to fare even a little better this time around on the strength of two of the new openers.

Flightplan

Jodie Foster proves that she still has some box office pull, as the critically middling Flightplan managed a strong $8.5 million on its first day. It's not quite so high as what she was able to drive Panic Room to do, but that film also had director David Fincher's name attached. For multiplier purposes, though, the best comparison is probably last year's The Forgotten, which opened in the same time frame with a similar Friday number. That film had a 2.6 Friday-to-Sunday multiplier, and if Flightplan performs similarly, it should finish the weekend with $22.1 million.

The Corpse Bride

Tim Burton's The Corpse Bride fell perhaps ever so slightly under expectations on Friday, though not by very much. It took in $6.6 million at the box office yesterday, and is a fairly unique entity, despite being an animated project, due to its quirky, Gothic-minded subject matter. If we estimate a 2.9 multiplier, it should wind up just short of $20 million with $19.1 million.

Roll Bounce

The roller skating film opened on a fairly limited number of screens, so big-time success was never going to be easy to come by. Roll Bounce made $2.3 million yesterday, and will hope to have a multiplier in the range of 2.7 at best. With that number, the movie will make $6.2 million in its opening weekend, 10% of which Fox Searchlight will donate to the victims of Hurricane Katrina. You can always prove me wrong on that multiplier folks, and help a movie studio do something really terrific.

Notable Holdovers

Just Like Heaven dropped 43% from its first Friday, which isn't a particularly impressive number for a rom-com, but given box office trending in 2005, isn't really terrible, either. It will probably improve that number to something under 40% for the overall weekend and a $10 million weekend.

Lord of War, on the other hand, fell a pretty rough 52%, especially considering its smaller opening. It will level off some, but is still looking at a second weekend of only $4.9 million.

Cry Wolf is hanging in the top ten with a drop of 55%. That's pretty much par for the course with horror flicks, and it will be off the charts before the blink of an eye.