Weekend Forecast for September 23-25, 2005
By Reagen Sulewski
September 23, 2005
BoxOfficeProphets.com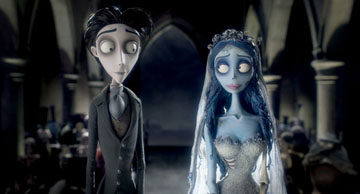 ---
It's now officially fall by the calendar as well as by the movie season, and some of the heaviest potential hitters of the season are starting to make their debuts. Two of the more highly anticipated films are among new films this weekend, along with a handful of lesser lights.

The ascendancy of Johnny Depp as one of the biggest stars of the box office in the last few years was a sudden as it was welcomed. Always lingering just below the surface as a critical and cult fave, his bravura turn in Pirates of the Caribbean woke the general public up to what a lot of us already knew: Johnny kicks all sorts of butt. He's continued that in a couple of other movies since then, but he now faces a bit of a test; how much can just his voice and a stop-motion simulacrum bring in?

Tim Burton's Corpse Bride is his second time around at a full-length stop-motion film, although he only produced The Nightmare Before Christmas. The same Gothic sensibilities run through this one, in service of the sort-of-scary, mostly-funny plot. Depp plays a nervous, milquetoast groom-to-be in an 18th century village who, while strolling through a particularly creepy stretch of forest, ends up proposing to a corpse in the ground. Hey, it was a different time; these things happened.

And hey, who doesn't love a wedding, even if it's to someone that strictly speaking, doesn't qualify for that "till death do us part" thing? Wackiness ensues as the whole family comes by and a mystery emerges... just why is this particular bride not resting in peace?

In addition to Depp, the film has a roster of character actors, including Helena Bonham Carter as the titular ghoul, Emma Watson as Depp's living paramour, as well as Christopher Lee, Albert Finney and Tracey Ullman, among others. Nightmare Before Christmas's opening weekend take of around $6 million will surely be surpassed by a large amount, especially since it's been 12 years and this film opens on almost triple the screens. A limited run last weekend on five screens brought in an impressive $388,000, so the anticipation for this film is certainly there.

It doesn't quite pack that knockout punch in the ads, however, so it will rely a lot on how much of a following there is for Johnny Depp and Tim Burton at his most Burtonesque. Fortunately for this film, that's pretty high, as this summer's Charlie and the Chocolate Factory proved. Opening on 3,204 screens, Corpse Bride should be able to bring in about $16 million, which may be enough to win the weekend.

It faces tough competition here from Flightplan, the latest thriller starring Jodie Foster. Foster has taken her time with movies in the last few years, with just this and a small role in A Very Long Engagement since 2002's Panic Room. There are more than a couple bases of comparison between the two films, which can both be summed up as "a determined mother fights for/tries to find her child in an enclosed space". In the cast of Flightplan, her child goes missing in a seemingly impossible way: in the middle of a trans-oceanic flight on a jumbo jet, although according to all flight crew, her daughter was never on the plane. Thus begins her rampage to find her daughter, despite everyone telling her she's nuts.

Invariably described as Hitchcockian, this movie also bears a bit of superficial resemblance to The Forgotten, which was a mildly surprising hit last fall. Another way of describing it might be "Jodie Foster running around hysterically and breaking things for two hours", which isn't without its appeal, but it also suffers from a sort of "been there, done that" from August's Red Eye, another thriller on a plane. Advertising has been pretty ubiquitous for Flightplan, however, and it's just enough of a compelling premise to not suffer too much. Plus, missing children are always a hook. Look for this to come in with about $15 million, with top spot for the weekend coming down to the wire.

Roll Bounce is the third new film of the weekend, filling that vastly underserved genre, the '70s roller-skating movie. Starring rapper Bow Wow and directed by Malcolm D. Lee (of Undercover Brother fame), it's a coming of age film set in the heady days of disco. In reality, it's more likely to sell more copies of the soundtrack than tickets to the movie, but you can't blame them for trying.

This film was bumped out of summer very close to its original date, which betrayed a lack of confidence in the film on behalf of Fox Searchlight. Trailers seemed to take a "how kitschy can you get" strategy, which is questionable at best, but surprisingly the film has received a handful of positive reviews, even if they do compare it favorably (!) with You Got Served, a film that at one point cracked the bottom ten of the IMDb ratings. Debuting on a modest 1,623 screens, this should come in at $6 million for the weekend.

Last weekend's number one film, Just Like Heaven, is set to drop out of that position after a slightly disappointing $16 million opening weekend. Ads have already resorted to revealing key twists about the film, which is a head-scratching move if there ever was one, since it doesn't just kill the theatrical take, but the secondary markets as well. It will drop to about $9 million this weekend.

The Exorcism of Emily Rose took a tumble to $14 million after its surprising $30 million opening, which still puts it in the running to be one of the most profitable films of the fall. Although it will drop to about $7 million this weekend, that puts it over the $60 million mark, with about $80 million being a likely end point.

Several limited and expanding films are notable this weekend, including An Unfinished Life, which fared well in the jump to 753 screens, ending up in 11th spot. It adds another 135 this weekend, though it will still remain outside the top ten with three wide release films coming into the market.

David Cronenberg's latest, A History of Violence, opens on 14 screens this weekend and is probably the most notable of limited releases. A sensation at Cannes, the thriller stars Viggo Mortensen as a small-town family man with mysterious ties to shady characters who seem bent on revenge. Cronenberg's most mainstream film in some time, it's a film to watch for in future weeks.