Weekend Forecast for September 2-5, 2005
By Reagen Sulewski
September 1, 2005
BoxOfficeProphets.com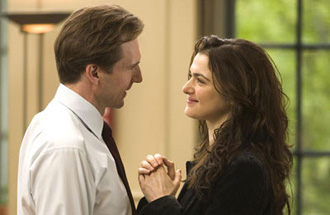 ---
Labor Day Weekend sees a larger-than-usual slate of releases, with four new films making their debut; however, Hollywood seems to be treating this last weekend of the summer season as the dumping ground that it normally is. That said, there are still quality films in the market, both new and returning.

A Wednesday opener starts off the slate, with The Constant Gardner. Directed by Fernando Meirelles of the outstanding Brazillian film City of God, the film is based on the novel by John le Carre. A thriller filled with both personal and political intrigue, it has been quietly gathering acclaim for its plotting and characterization, and appears to have thrown open a stagnant Oscar race.

Starring Ralph Fiennes (evoking his defining role in The English Patient) and Rachel Weisz, the film doesn't have a tremendous amount of star power, but does have a certain amount of prestige that may give it a chance to find its footing. It debuts on a modest 1,349 screens. An opening weekend of about $5 million is likely, with another $2 million or so coming prior to the weekend.

The Transporter 2 is the sole new movie to see a full wide release at just over 3,300 venues. The sequel to the 2002 film that attempted to make Jason Statham a star, this continues the story of the no-questions-asked but ass-kicking-if-he-must title character as he makes a move from the south of France to the U.S. Expect plenty of gunfire-while leaping, elaborately choreographed group martial arts fights and fiery explosions.

The original debuted to a little over $9 million in October of 2002, when Statham had yet to open a film by himself. It got that figure mostly on the basis of a terrific and fun trailer that showcased ingenious stunts. The trailer for this one does much of the same, capping off with a car jumping from one parking garage to another. However, in the passing three years, Statham hasn't really made himself a huge star, though supporting roles in The Italian Job and Cellular certainly paid the bills. Potential for this film sits around or a little above last year's Taxi, which shares some Luc Besson heritage with The Transporter. There's a good chance for this film to win a lackluster weekend with around $15 million over four days.

Why, just in time for back-to-school, it's a wacky undercover-cop-as-high-schooler action comedy. What are the odds? Underclassman stars Nick Cannon, a sort of less famous Frankie Muniz, as a young cop looking for a break. When an journalism student is killed at an elite private school, it's Cannon to the rescue to find the killer. Lucky us.

Cannon produced and gets a story credit, which begs the question of how someone who's only ever had one moderate hit can get a vanity project. My bet is incriminating pictures of Harvey Weinstein, and nobody wants to even consider the ramifications of that. Underclassman is getting a token release at just over 1,100 screens, which is a dumping move by any standards, especially on the dead Labor Day Weekend. It should see about $4 million in box office this weekend, if people even realize it's been released.

Also in the "That came out?" category is A Sound of Thunder, which on around 800 screens, makes this likely to be the third weekend in a row with an opener under $1.5 million. Based on the time-travel story by Ray Bradbury and directed by Peter Hyams (who you might recall from the end of Arnold Schwarzenegger's acting career in End of Days), this film has the distinct possibility to throw under the losses of this summer's bombs The Island and Stealth. Budget costs are estimated at about $80 million, a figure that should be nowhere near the words "leading man Ed Burns".

The concept is obviously a decent one, as the Bradbury story is one of his most famous and enduring. Time travelers accidentally change the course of history in an expedition to the past, causing catastrophic changes to the future they return to. There are some meta-physics issues here, but we'll grant them for the sake of the movie. What we won't grant are awful, amateurish looking effects, nonsensical plotting (taking a flying leap here) and a trailer that looks like it was edited with a blender. And yes, you read that right - Ed Burns is the biggest star of this movie. Look for $1 million for this film along with one million time travel jokes.

Narrowly holding off The Brothers Grimm for first place last weekend, The 40 Year-Old Virgin has a shot at holding onto the top of the box office ranks for a third weekend. The second straight raunchy comedy this summer to show extended legs, it's especially well positioned for the coming weeks. After dropping just 24% in its second weekend, Virgin is now just over the $50 million mark with potential for much more. Watch for word-of-mouth to really grab hold of this film, with it earning another $16 million over four-days this weekend.

The Brothers Grimm did about well enough for it to justify its $80 million budget, but only just so, and because of international appeal. Hopefully, this will free the hands of Terry Gilliam to make more films on his terms (he of course has another coming this year already, to much advance critical praise). The Brothers Grimm should earn around $11 million more over the Labor Day Weekend.

Red Eye also impressed with legs last weekend, dropping only 36%, a great figure for a thriller of late. Expect many more films with the two leads of the film, Rachel McAdams and Cillian Murphy, to have a higher profile release in the near future. That is, until one inevitably fails and they're thrown on the scrap heap of It Stars. Give Red Eye about $9 million more this weekend.