Friday Box Office Analysis
By Tim Briody
August 20, 2005
BoxOfficeProphets.com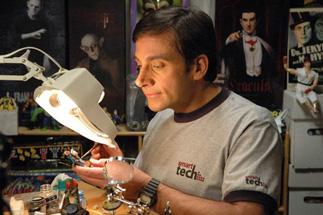 ---
Is it weird that August is producing more hits than July did?

The 40 Year-Old Virgin

The Steve Carell comedy directed by Judd Apatow earned an impressive $7.3 million Friday. As Wedding Crashers' strong run starts to slow down, here comes another comedy to take its place. The opening night figure might be inflated just a tad so we'll go with a conservative internal multiplier of 2.7 for a $19.7 million weekend.

Red Eye

Wes Craven's thriller drew a decent $6.2 million Friday. With its main stars having breakouts of their own in other films this summer, that certainly didn't hurt. Figure around a 2.8 internal mutliplier and a $17.4 million weekend.

Valiant

The CGI-animated Valiant took in a meager $1.8 million Friday, a disappointing figure for even a film as buried as this one. Even a somewhat above average multiplier will still place it at around $6 million for the weekend.

Notable Holdovers

Four Brothers falls 49.4% from a week ago which is a bit higher than expected given its target audience. Look for a weekend decline of around 45% or so to $11.6 million.

Kate Hudson's Skeleton Key fell a much more typical 58.9% from last Friday. Figure a 55% decline or so and a $7.2 million second weekend.

Deuce Bigalow: European Gigolo and The Great Raid have fallen off the face of the earth, much like this weekend's other new release, Supercross.