Four Brothers Get Revenge At Box Office
Box Office Estimates Report for August 12-14, 2005
By Tim Briody
August 14, 2005
BoxOfficeProphets.com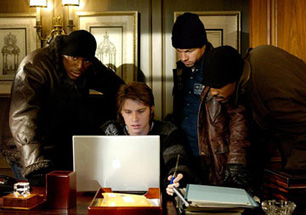 ---
Since 2005's box office to date has been way under last year and the middle and late weeks of this August offering nothing much in the way of quality to moviegoers, this weekend wasn't supposed to be very good for Hollywood. Or was it? Four films were released this weekend, with most of them expected to get lost in the shuffle of last weekend's champ The Dukes of Hazzard and the There's Something About Mary-like performance of The Wedding Crashers. Those damn penguins were still marching around theaters too. Apparently, some demographics were underserved this weekend, leading to two of the new releases taking up the top spots. But despite the decent numbers posted by Four Brothers and Skeleton Key, the box office was again down this weekend from a year ago.

The number one film this weekend is Paramount Pictures' Four Brothers, John Singleton's gritty revenge drama, grossing $20.7 million. Starring Mark Walhberg, Tyrese Gibson, Andre Benjamin (the "Hey-Ya!" guy from Outkast) and Garrett Hedlund, the actioner may have given audiences what they didn't get in recent weeks from films like The Island and Stealth. Reviews were middling to negative, as the 40% Fresh rating at Rotten Tomatoes would indicate, but a 2.91 internal multipler off Friday's $7.1 million opening would push it over the $20 million mark. For Singleton, after paying off the mortgage with 2 Fast 2 Furious, it's a return to the type of films he's been known for since 1991's Boyz 'N the Hood, and he's always had a decent following. It would also be his third largest opening weekend, behind the aforementioned 2 Fast 2 Furious ($50.4 million) and 2000's Shaft ($21.7 million). Four Brothers probably won't be terribly leggy, but against a production budget of $30 million, is going to find itself in the black after next weekend.

Second place goes to another new release, Skeleton Key. The Kate Hudson supernatural thriller earned $15.8 million, a number some find as a bit of a surprise. Despite the abundance of horror films release in 2005, there hasn't been one given a signifigant release in about a month (remember Dark Water? We didn't either.), so the argument could be made that the target audience was actually hungry for something from the genre. The marketing was slightly above average and could've drawn a few folks in from its ads as well. Surprisingly, this would be Kate Hudson's second highest opening weekend ever, behind 2003's How to Lose a Guy in 10 Days ($23.7 million). Signs aren't pointing towards positive word-of-mouth, but with a $40 million negative cost, the Universal film will come pretty close to finding itself in the black before leaving theaters.

In third place we have The Dukes of Hazzard, which fell hard in its second frame. Off 57.6% with $13 million, the adventures of Bo, Luke and Daisy Duke proved to be a one-weekend wonder, as the target audience deserted it in droves this weekend. In ten days, the WB production has earned $57.5 million, but its $100 million prospects are now in serious jeopardy. If they're still planning a sequel, they might want to rethink those ideas.

Dropping two spots to fourth in its fifth weekend is the story of the summer, The Wedding Crashers. It again holds impressively, down just 24.9% to $12 million, putting its haul at $164.1 million. The $200 million mark is still in striking distance. If it can keep having declines under 30% the next few weeks, it should be a no-brainer. The biggest competition the Owen Wilson/Vince Vaughn comedy has is next weekend's The 40 Year-Old Virgin. Should it hold well in the wake of the Steve Carell comedy, look out.

Placing fifth is another new opener, Deuce Bigalow: European Gigolo. The Rob Schneider sequel to the mild 1999 hit took in $9.4 million over the weekend. The original opened to $12.2 million in December of that year and only made $65 million, making everybody wonder 1) why anybody even bothered and 2) if they were going to bother, why did it take six years? Deuce Bigalow: Male Gigolo benefited from December box office legs to push its total to where it did. August is no December. With a $25 million production budget, the Happy Madison production release by Sony might reach that total, but it's no guarantee. I'm sure the offers for the Copy Guy movie are starting to look pretty good to Rob.

Charlie and the Chocolate Factory drops to sixth in weekend number five. Down just 33.8% with $7.3 million, the Tim Burton/Jonny Depp remake now stands at $183.8 million after holding well in the wake of some newer movies. The Warner Bros. film has made its production budget back and is now looking to keep enough steam to hit $200 million. It should do that, but it won't get much further.

The seventh spot goes to the other big surprise of the summer, March of the Penguins. Dropping a miraculous 5.4% from last weekend (but down a place from last weekend) with $6.7 million, the documentary continues to cement its place as the second highest grossing documentary of all time. I freely admit to being surprised by this one. It doesn't have the topical hook that the Michael Moore films do, nor the buzz of such documentaries like last year's Super Size Me or the now-playing Aristocrats. Still, the G-rated film is striking a chord with audiences in a way not many films do. After eight weekends in theaters and two in wide release, the Warner Independent Pictures release has earned $37.6 million.

The eighth spot goes to Disney's kid-pic Sky High, also holding well with a 32.2% decline from last weekend. Its $6.1 million take this weekend brings it to $43.3 million. It should also eke out earning its $60 million budget back, before taking in huge sums on DVD.

Rom-com Must Love Dogs takes ninth with $4.6 million, down 37.7% from last weekend. The Diane Lane/John Cusack picture now stands at $34.6 million, just under its reported $35 million budget. $50 million apppears to be in the cards for the film, a solid number for both leads these days.

Finally in tenth we have The Great Raid, the last of the weekend's four openers. Squeaking into the top ten with $3.4 million on 819 screens, the war film starring Benjamin Bratt and Joseph Fiennes just didn't have enough awareness or exposure to make much of an impact at the box office. A $10 million total gross might be asking a lot.

Overall, the top ten films this weekend earned $99 million, down 17.3% from a year ago when Alien vs. Predator topped the charts with $38.2 million and The Princess Diaries 2 also opened strongly with $22.9 million.