Weekend Forecast for Aug 12-14, 2005
By Reagen Sulewski
August 12, 2005
BoxOfficeProphets.com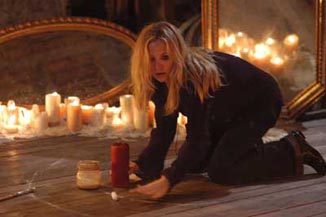 ---
Welcome to the dog days of August. The next few weeks are not going to be pretty at the box office, and this summer, that's really saying something. The run of craptacular films starts this weekend with four new wide releases that don't inspire much more than a desire to brave the outside world for a little while.

Probably the brightest light this weekend is The Skeleton Key, a moody and stylish thriller starring Kate Hudson. Set in the Louisiana backcountry, it has Hudson as a nurse hired to look over a dying, ailing man (played by John Hurt) who may be more than he seems. Or perhaps it's his slightly creepy wife, played by Gena Rowlands, who may have connections to voodoo. Or maybe it's the house itself with secrets. This is why you always check out your employer first.

Horror films are typically the easiest kind of low budget film to sell, as recent years have seen, with films like Jeepers Creepers, Darkness Falls and several other pieces of forgettable... cinema being moderate hits. Typically star power doesn't matter in these cases, which is not to say that Kate Hudson has been a tremendous success in this manner. Ads for the film have even sunk to the "shocking twist ending" gambit, which is usually reserved for after first weekend if a studio really has confidence in a film. Still, audience may be in the mood for a good spooky film (August is a traditional spot for them). It could end up as the highest opening film of the weekend, though not necessarily #1 overall, with around $13 million.

Falling squarely into the "who asked for this?" category is Deuce Bigalow: European Gigolo, arriving nearly six years after Rob Schneider managed to squeeze a minor hit out of the first film, which opened to about $12 million. As the title suggest, Schneider is off to peddle his meager wares to desperate European ladies who are (clearly) desperate as can be.

While this is typically the kind of film that is trotted out in the annual "death of the culture" arguments, it's a needlessly harsh line to take. Silly, filthy comedies have been with us since time immemorial, and Schneider, Eddie Griffin and director Mike Bigelow (oh, the laughs they must have had on set about that) seem to have mined about as much as possible on the rich subject of man-whores. The original wasn't high cinema, but had some laughs in spots, which is typically enough to draw people in for Low Expectations Theater. Receiving the widest release of any of the new films this week, it should squeeze out another $11 million.

Director John Singleton gets back to something resembling his respectable roots after the cinematic disaster of 2 Fast 2 Furious with Four Brothers. The film is a gritty thriller about four adopted brothers who attempt to avenge the death of their (white) mother. Set in Detroit, it stars Mark Walhberg, Tyrese, Andre Benjamin (of Outkast) and Garrett Hedlund as the brothers, which if you're paying attention, makes them two white, and two black. Obviously race is and isn't an issue, if you get my meaning. Their mother's death sets off a chain reaction to uncover a greater network of corruption, but can they survive it themselves?

The film's vengeance factor makes it potentially an appealing choice for movie goers, who could be looking for something slick and violent. No one in the cast is particularly strong in the box office draw department, but together they add up to a decent cast. Put all this together with a medium to heavy marketing campaign and it should be enough for a $10 million opening weekend.

Opening on just 819 screens, The Great Raid doesn't have much potential to make a big box office impact and appears to be recognition of the small star power of the film, which is headed by James Franco and Benjamin Bratt. Based on the raid to rescue POWs from a camp in the Philippines in WW II following the infamous Bataan Death March, it bears some thematic similarities to Saving Private Ryan, but without the studio promotion or A-list director and cast. The director is John Dahl, who has produced many quality films in the past, including Rounders and The Last Seduction, but has typically brought them to middling box office. Reviews are tepid for this film, which generally praise the action sequences but knock the film for dragging outside of those sequences. The low screen count should limit it to a very small box office result, in the neighborhood of $3 million.

The top film of the weekend is likely to be The Dukes of Hazzard once again, to the chagrin of culture watchers everywhere. Bringing in $30 million last weekend with a truly strange inter-weekend pattern, it was one of the few legitimate hits of the late summer. Word-of-mouth is likely to be quite positive, but the very young audience for the film means that drop off is still going to be pretty high. Something close to 50% wouldn't be unexpected, but its final weekend total should be about $17 million.

The impressive performance of Wedding Crashers continues, with its cumulative total now at $150 million. Its minuscule drops of 20% or so have propelled it to be one of the summer's biggest hits, and there is no reason this should stop based on the films it's facing now. It adds screens in its fifth weekend, something not seen in some time, and if the Duke cousins completely crash, it could retake top spot once again.

The real surprise of the summer, however, is March of the Penguins, a nature documentary now approaching $30 million total. Its sixth place finish is the first for a documentary since Fahrenheit 9/11, and it is displaying tremendous staying power. After a big expansion last weekend, it adds a handful of screens once more, and should bring in around $5 million in its eighth weekend of release.