Friday Box Office Analysis
By Kim Hollis
July 30, 2005
BoxOfficeProphets.com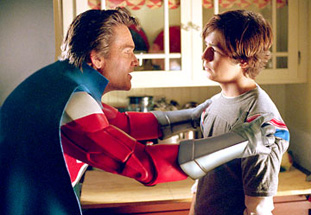 ---
Three films appealing to wildly divergent demographics hit the marketplace this weekend, and one of them will go down as every bit the disappointment that The Island was. None of them will be helping the box office out of its lackluster 2005 pace, either.

Stealth

Although director Rob Cohen was able to catch lightning in a bottle with such diverse stuff as The Fast and the Furious and xXx, he wasn't quite able to repeat that kind of success with the messy-looking Stealth. For those earlier films, he had hooks that were able to appeal to their youthful audience targets. With The Fast and the Furious, it was the excitement of street racing and pimped-up cars. For xXx, the draw was that the central "spy" character was youthful and apparently hip, as opposed to the stodgy old formula that had been working so well for 007. Sentient stealth fighters just didn't have the same cachet, and not even Jessica Biel in a bikini could save this disastrous production.

Stealth is rumored to have almost exactly the same budget as The Island, and looks as though it will share a similar fate. It started the weekend with $5 million at the box office; and will be front-loaded due to the fact that it primarily appeals to the gotta-see-it-now segment of the audience – young males between the ages of 15 and 25. Fast and the Furious and xXx both had pretty similar Friday-to-Sunday multipliers, with the former garnering a 2.7 and xXx winding up with a 2.57. We'll split the middle for Stealth for a 2.6, which would give the movie that ostensibly stars Jamie Foxx $13.6 million for the weekend.

Sky High

The delightful Sky High, a movie about superhero kids and the school they attend, started the weekend quite well given the expectations and what is likely to be only a middling budget. The well-reviewed kid flick made $4.8 million on Friday, falling just barely short of Stealth's total despite being in almost 600 fewer venues. Several years ago, Spy Kids enjoyed similar positive word-of-mouth to wind up with a 3.9 multiplier from Friday-to-Sunday. Given the evolution of the marketplace, Sky High won't achieve such lofty heights. A 3.2 multiplier would give it $15.4 million for a three day total and hopefully a great start to a leggy run. On a personal note, I can't recommend the film highly enough.

Must Love Dogs

Fans of the 2003 Diane Lane film Under the Tuscan Sun came back for a little bit more as she stars in this similarly-themed chick flick. This time around, she brought John Cusack along to bring in those ladies who just can't resist the allure of Lloyd Dobler. Under the Tuscan Sun had a $3 million Friday, and Must Love Dogs was able to improve on that audience with a first-day total of $4.4 million. It should behave very much like the earlier Lane film as the behavior of this demographic has not changed in the same way that others have in the past two years. With a 3.2 multiplier like Tuscan Sun's, Must Love Dogs would find $14.1 million in weekend number one.

Notable Holdovers

After two weekends at the number two position, Wedding Crashers is going to take over the top spot on the box office charts. It fell a slight 21% from last Friday for 6.0 million, and will likely have an even smaller drop for Friday-to-Sunday. It should take in another $21 million for the weekend as it proves to be easily the leggiest big-budget film of the year.

Charlie and the Chocolate Factory will recover a bit from the heavy drop it experienced last weekend, even if it does concede the top of the chart to Owen Wilson and Vince Vaughn. With a 43% drop from last Friday, Charlie and friends should level out to 40% or less for the three days. $17.8 million would be in order here.

The Island solidifies its status as unmitigated catastrophe as it falls 57% from an opening Friday that wasn't very big to start with. After $1.8 million on Friday, it should finish the weekend at $6 million.

Bad News Bears is similarly dismal, which means it's not going to be following the trajectory of Bad Santa. It dropped 59% from last Friday, and will be happy to even out some to 50% and a three-day total of $5.7 million.

Hustle & Flow behaved fairly typically for an "urban" release (I yearn for the day when we find a better descriptor). It fell 58%, which isn't great, but also is in line with expectations for movies of the genre. $3.8 million is the likely result here.

The Devil's Rejects, which pulled in $3 million last Friday, didn't even manage to crack the top ten yesterday.