Friday Box Office Analysis
By Kim Hollis
June 25, 2005
BoxOfficeProphets.com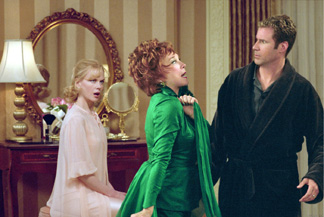 ---
The summer blahs just keep on chugging along.

Bewitched

Bewitched conjured up an estimated $8 million on Friday, a number almost exactly identical to what Nicole Kidman's Stepford Wives earned in mid-June last year. That film wound up with a grim multiplier of 2.64, but the prospects would almost have to be better for the more family-friendly Bewitched. Call it a 2.8 which would amount to a three-day total of $22.4 million. That's probably right in line with expectations, so Sony will probably call it a win.

George A. Romero's Land of the Dead

Land of the Dead is going to surprise some people by getting off to a superlative start for the weekend given the number of venues in which it is being shown. The film shambled to a $4.4 million Friday; however, given the typical behavior of the horror genre, it's probably looking to be a bit front-loaded. Last year's remake of one of Romero's earlier films, Dawn of the Dead, had a multiplier of 2.45, but it was also in substantially more locations and had more than twice as large of a Friday. A closer analog would be 28 Days Later, which had a 2.96 multiplier with a slightly smaller number and a lighter venue count. Land of the Dead will finish somewhere in the middle of those two multipliers, so a 2.65 seems fair enough. That would give the zombie master $11.7 million for the weekend, which is likely more than any of his previous movies earned combined.

Herbie: Fully Loaded

I suspected that Herbie: Fully Loaded might suffer from the taint of Lindsay Lohan, whose frequent appearance in the gossip rags for her party girl antics and supposed anorexia have made her somewhat less appealing to the family crowd that used to adore her completely. After taking in $5.4 million on Wednesday and Thursday, the cute Volkswagen comedy managed another $4.1 million on Friday, throwing it all the way down to fifth place for the day. Still, the prognosis for family-friendly films in summertime, particularly G-rated ones, is always good. Herbie should be able to generate a 3.3 Friday-to-Sunday multiplier, which would give it $13.5 million for the three days and $18.9 since Wednesday.

Notable Holdovers

Even though Batman Begins dropped 44% from last Friday with its $8.4 million total yesterday, that's a pretty strong number in a year when blockbuster-type films typically drop well in excess of 50%. It's looking at losing probably 40% or less of its audience for the entire weekend, which would indicate a total of close to $30 million.

Meanwhile, Mr. & Mrs. Smith saw their fortunes recover somewhat with a 40% drop of their own from last Friday. It should level out to a 35% or so loss for a $16.9 million weekend.

As for Hilary Duff's The Perfect Man, it's already off the radar.