Friday Box Office Analysis
By Tim Briody
June 18, 2005
BoxOfficeProphets.com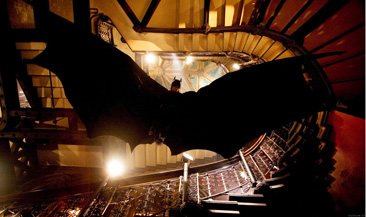 ---
Batman Begins

Batman Begins began with a Wednesday total of $15 million, followed by $9.1 million Thursday. Friday it rebounded to the sum of $15.2 million, a solid figure but certainly no Spider-Man. The closest comparison here is most likely the first X-Men movie, all the way back in May of 2000. Opening to a $21 million Friday, the mutant movie had a 2.54 multiplier on its way to a $54.4 million weekend. Batman's multiplier probably won't be that low, but it won't be much higher, either. We'll go with a 2.65, which would give Batman Begins $40.2 million for the weekend and $64.3 million in five days.

The Perfect Man

Hilary Duff's latest epic is a small step above last year's Raise Your Voice, but that's not saying much. With a Friday tally of $2.1 million, the chick flick is likely to end up with $6.2 million for the weekend. To keep up with Lindsay Lohan (whose Herbie: Fully Loaded hits next Wedesday), poor Hilary might have to dye her hair pale blonde and go down to a dangerously unhealthy body weight. Just sayin' is all.

Notable Holdovers

Mr. & Mrs. Smith drops an alarming 53.1% from last Friday. Perhaps audiences were more interested in the off-screen romance of Brad Pitt and Angelina Jolie rather than the on-screen one. Anyhoo, the Doug Liman-helmed film might be able to reduce the bleeding down to the 45% realm, but it doesn't bode well at all for its long-term prospects.

Robert Rodriguez's The Adventures of Shark Boy and Lava Girl in 3-D drops 50% from last Friday. With Madagascar and even Star Wars still out there to vie for kiddie dollars, this film is no Spy Kids, to say the least. The remainder of the weekend could help it out a little (it had a 3.22 multiplier last weekend), but a best case scenario here is a 40% decline, which is bad for a kids movie any way you slice it.

Here at the Friday Box Office Analysis, we pride ourselves on further stretching the definition of "notable." Today, that includes The Honeymooners. Falling 54.4% from a week ago to barely make the top ten, the Cedric the Entertainer-led remake shouldn't be down any less than 50% from its $5.5 million take last weekend.