Weekend Forecast for June 3-5, 2005
By Reagen Sulewski
June 2, 2005
BoxOfficeProphets.com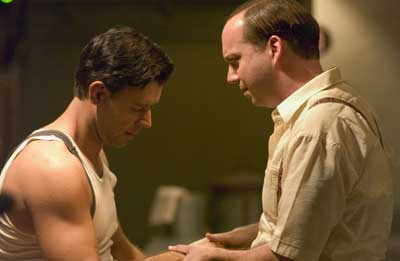 ---
With Memorial Day Weekend over, we are now into the nitty-gritty of the summer movie season, with blockbusters (at least potential ones) arriving every week. One of the films arrives as Oscar bait, although the rest of this week's offerings do not have such a lofty goal.

Cinderella Man is the second collaboration between Ron Howard and Russell Crowe, and features Crowe as Depression-era boxer Jim Braddock. His comeback run in the early '30s is credited with lifting the spirits of many in what clearly wasn't a happy time, although it might be pointed out that the Depression lasted five years after he regained his form. I guess he would have been more effective if he'd declared war on Germany and Japan.

The trailer practically has "For Your Consideration" stamped at the top, with stirring music, sepia-toned scenes, and an audience friendly story arc, nearly completed by the time "June 3rd" comes up on screen. It's tempting to compare it to last year's Best Picture winner Million Dollar Baby, but the natural comparison has to be Seabiscuit, another Depression-era underdog story. That film opened on just under 2,000 screens to about $20 million and went on to earn $120 million total, with a newly famous Tobey Maguire and Jeff Bridges as its main human draws.

Neither of those has even close to as much of a pull as Crowe, who has to be getting awfully antsy considering it's been four years since his last Oscar nomination. This film seems designed to get him his fourth, much as playing John Nash in A Beautiful Mind got him his last. That film earned over $170 million during its box office run, and Crowe followed it up two years later with Master and Commander, which while not as successful, still pulled in $93 million.

So Crowe's credentials are firmly established. We also have Renee Zellweger in the film as Braddock's wife and to make for female interest in the pugilism of the film. Further supporting characters include Paul Giamatti as Braddock's corner man, and character actors Paddy Considine and Bruce McGill. As a determined crowd-pleaser getting a decently wide release, Cinderella Man should bring in about $26 million in its first weekend of release.

The Lords of Dogtown is opening on a modest number of screens, under 2,000, but has serious sleeper potential. The story of the start of Venice Beach skater culture, it is essentially a dramatization of the documentary Dogtown and Z-Boys. Although it would be easy to think that this movie only appeals to a narrow sub-culture, it would be a mistake. The rise of things like the X-Games and the embrace of sub-cultures in general would point to an untapped market for a film on this subject.

That's not to mention that the film just plain looks good, with interesting looking action and a compelling young cast, led by Heath Ledger, channeling Val Kilmer. Although Ledger is short on out and out hits as a lead, he has had a number of mid-level successes and is continually one project away from becoming a significant leading young actor. This could be that project. Although its screen count isn't huge, the film should still open well, and I predict a $13 million opening weekend, with some potential for legs.

Some films throw up the international signal for "stay away" quicker than others. The Sisterhood of the Traveling Pants does so right in the title, one of the worst in recent memory. Although the film is undoubtedly a charming and sweet coming-of-age tale about four teenage girls (revolving around, I'm not kidding, a shared pair of jeans), that title fails both the marquee test (as it wraps around all side of it) and the "one, please" test, wherein it seems impossible to imagine anyone (especially those possessing a Y chromosome) to say this title out loud to a ticket agent.

For 12-year-old girls on the other hand, that's probably not such an issue and this is likely to be their War of the Worlds for the summer. The biggest draw is a split between Alexis Bledel, who will more than likely bring in a few Gilmore Girls fans, and Amber Tamblyn, who will do the same for Joan of Arcadia followers. Opening on Wednesday, we can expect about $4 million before the weekend, and around $8 million from Friday to Sunday.

Last weekend's formidable trio is still around, which earned a combined $159.7 million over the four day holiday weekend. Of them, Madagascar is likeliest to be long-lived. The family friendly animation tale finished a strong second with $61 million in four days, stronger than some other non-Pixar animation films of late, but certainly not rising to the level of a Shrek. Word-of-mouth will be favorable but not ecstatic, and it has an excellent chance of sneaking into the first spot for the weekend. It should earn about $34 million in its second weekend.

Star Wars Episode III took first place again, but fell a disturbing 50% over comparable periods, doubly concerning on a holiday weekend. This is more even than Attack of the Clones fell three years ago. However, the film has earned a tremendous $275 million to date, so it's hard to start crying for the film's fortunes. Not taking advantage of the holiday weekend made it miss what would have been a slam-dunk record for fastest $300 million, although it is still in line for that this weekend. The film needs only to hit that mark by Sunday or earlier to break Spider-Man 2's mark of 19 days. It would be astonishing if it didn't reach this mark, and it should happen on Saturday, although it's possible it could just miss. Look for it to earn about $27 million this weekend.

The Longest Yard is the best bet for a film that will fall the steepest this weekend, failing with critics, and receiving just a lukewarm reception from Sandler's own fans. The $58 million it earned over four days is Sandler's best opening to date, but one gets the feeling that has a lot more to do with ticket inflation and the holiday weekend than anything. Although it proves Sandler's still got it as far as opening a film, this one is probably not going to be among his leggiest hits. Give this one $22 million in its second frame.

Making an appearance in limited release is Rock School, a documentary about a hyperactive music teacher helping kids learn the ropes of rock music. No, it's not a re-release of School of Rock, it's the real deal, and this guy makes Jack Black look like Stephen Wright. This looks to be the most interesting documentary of the early summer.