Friday Box Office Analysis
Sith Still Slaying at the Box Office
By John Hamann
May 21, 2005
BoxOfficeProphets.com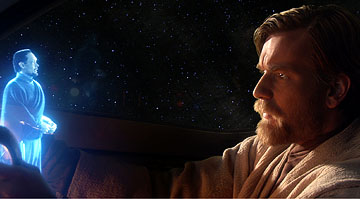 ---
After $16.9 million from midnight screenings, which led to a $50 million opening day for Star Wars Episode III: Revenge of the Sith, one had to wonder if there would be a bit of a letdown at the box office on Friday. Even with a record number of showings on Thursday, Revenge of the Sith was still pulling strongly on Friday, maybe even enough to put it in the record book for the weekend gross.

Star Wars Episode III: Revenge of the Sith grossed $33.7 million on Friday, off about 31% from the $50 million Thursday gross that included those powerful midnight screenings on Wednesday night. Yesterday I was concerned that the fanboy rush would prop up the Thursday number, and we would see a steep falloff from there. It wasn't to be, as the Sith pulled a one-day average of $9,205 from 3,661 venues. The Friday gross now puts the final episode in George Lucas's space sage at $83.8 million after only two days.

As for the rest of the weekend, Star Wars pulls both young and old, so it should have a decent weekend multiplier over this May frame. Star Wars Episode II: Attack of the Clones had an opening weekend (Fri-Sun) gross of about $80 million, and a first Friday gross of $24.4 million. That means it had a weekend multiplier of 3.3, which is excellent not only for a film with a Thursday start, but also for a sequel. Because Sith's Thursday was so much bigger than that of Clones, I'll give a weekend multiplier for Sith at 3.2, which would potentially give it an opening weekend of $108 million. A 3.3 multiplier would put the weekend at $111.2 million, which would narrowly miss Spider-Man's opening weekend gross of $114.8 million. One would guess that Fox might overestimate that gross to $115 million, so they can break the record, at least for a day.

The rest of the top ten got hammered by the dominance of the Sith. Unleashed, Jet Li's new movie got its butt kicked, dropping 70% from last Friday's gross. Kingdom of Heaven was also down close to 70%. The most resilient film in the top ten continues to be Crash, as the drama was only off 22% compared to last Friday.

Check back tomorrow when I'll have the weekend estimates for Star Wars Episode III: Revenge of the Sith and the rest of the top ten.