Weekend Forecast for May 13-15, 2005
By Reagen Sulewski
May 13, 2005
BoxOfficeProphets.com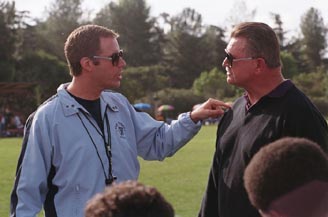 ---
Usually by even this early part of the summer movie season, we've already anointed a hit, and see nothing but tentpole films on the way for weeks to come. This year? Not so much. There's four films taking on the weekend, but none of them seem likely to be the first blockbuster of the season. In fact, the releases this weekend are more likely to test moviegoers' stomachs rather than their wallets.

The most promising of the bunch is Kicking & Screaming, the latest comedy from Will Ferrell. Playing a long suffering son of the most competitive man in the world (Robert Duvall), Farrell finally snaps after his father trades his grandson off the pee-wee soccer team that he coaches. Taking on the role of coach for his son's new (and pathetic) team, he discovers the competitive fire within and basically acts like a 12-year-old on a power trip. Wackiness and kicks to the groin ensue.

Ferrell is easily the most successful SNL-alumni post-Adam Sandler, and has managed to carry - at the very least - two films on his own (Old School's kind of a grey area). Elf opened to $31 million and grossed an amazing $173 million with its Christmas tie-in. Anchorman opened to a smaller $28 million last summer, went on to gross $84 million total, and was a tremendous hit on DVD. All signs could be pointing to him becoming another Jim Carrey. Some might think he's already there. Others might contemplate suicide at this thought. In any case, there's going to be a significant built-in fanbase for a Ferrell film from now on until he dynamites his own career.

As always, it's going to depend a lot on what the perceived quality of the jokes are to drive the box office. Kicking & Screaming isn't "high-concept" like a lot of the big mega-opening comedies (of which there are surprisingly few) and although there is some nice cartoon violence, it's not quite up to bone crunching-Waterboy extremes. One unique aspect is its taking the celebrity cameo to new extremes, having former Chicago Bears coach Mike Ditka play himself as Ferrell assistant on the sidelines. Poor Mike. At any rate, your enjoyment of the film will likely have to do with whether your tolerance for grown men acting like children is high. Looking at the culture these days, that's apparently a lot of you. However, this film doesn't really stand out enough to be more than a mid-level earner at this point of the year, and it should bring in about $24 million this weekend.

Also looking moderately strong is Jet Li's latest, Unleashed, which boasts a pretty strong supporting cast for one his movies, including Morgan Freeman and Bob Hoskins. It has a fairly nasty premise, which has Li's character raised as Hoskins' "dog", trained to kill at his command. When he breaks free, can he regain his humanity? Can his old master reclaim his control? Is he going to totally bust some dude's head?

Morgan Freeman plays a blind musician who befriends Li after he escapes, in a plot point that has James Whale's and Mary Shelly's estate penning furious letters to Focus Features. Hoskins plays his evil master and assorted stuntmen play cannon fodder for Li's fists and feet. Li has found himself a nice steady following for his films, consistently earning him between $13 and $19 million for his opening weekends, and this is unlikely to change here, looking no worse and no better than his last few films, despite the addition of some bigger names. Opening on a smallish 1,955 screens, Unleashed should bring in approximately $16 million this weekend.

Monster-in-Law, starring Jennifer Lopez and Michael Vartan, is probably going to be most notable for the return of Jane Fonda, appearing in her first acting role in 15 years. Yet another variation on the Meet the Parents theme, the plot has Fonda, a vindictive woman of pure evil… no, her character… attempting to destroy her son's new relationship (Vartan and Lopez). Where Meet the Parents and Meet the Fockers was passive-aggressive, this film is straight ahead nasty.

The appeal of Fonda is a complete wildcard at this point, and she is still a controversial figure. Then again, most people who care about her status would likely stay far away from this kind of film anyway. Lopez has been no sure thing of late either, falling into the trap of being a celebrity rather than an actress (or singer, or whatever the hell she is lately). Then again, it would be hard for anyone's career to survive the firestorm that was Gigli. Shall We Dance? opened to almost $12 million last year, so she may be through the worst of that. As for Vartan… well, he's got Alias to fall back on – for now – and that should be good enough for him.

The overall concept is interesting, but you wonder how much people can make out of a straight-up bitch-contest. Is an hour and a half-plus of that too much for anyone? Whatever number of people can take that, it's probably less than what the producers thought. Look for Monster-in-Law to earn a modest $14 million this weekend.

Just in time for the three-year anniversary of its wrap party, Mindhunters hits the screen. A film about a serial killer-targeting FBI agents who track serial killers (ooh, how recursive), it's been shelved so many times your ticket practically comes with a restocking fee. Val Kilmer has had eight, count 'em, eight films released between the time Mindhunters wrapped and its final release date.

The serial killer thing is so three to five years ago, too, and Dimension has a complete lack of confidence in the film, releasing it on only 1,040 screens and hoping no one notices it. I imagine LL Cool J and Christian Slater would feel the same way if they had anything better coming along. Savaged by critics, this movie should disappear quickly after making a token $3 million.

Although Kingdom of Heaven did start off May by taking first spot at the box office, its anemic $19 million opening weekend is a huge disappointment compared to its $130 million budget, which will be a terrific chore to make back now. Without a crucial moviegoer base to support it, it will fade from theatres quickly, perhaps even before the end of June. I'd say we're looking at a $60 million domestic total, tops. This weekend, the panned epic will drop to about $11 million.

House of Wax pulled off a $12 million opening, so if you divide by the average ticket price, you know how many people in North America were eager to see Paris Hilton be violently murdered. The gruesome film has actually garnered a slight amount of acclaim for innovative killing methods, and may be able to pick up a bit of steam as the only horror film in the marketplace. On the other hand, I wouldn't count on another Scream. It may make around $7 million in its second weekend.

The gripping and complex drama Crash opened to a strong $9 million on just 1,864 screens, and has gotten some of the best reviews of the year so far, based on its careful and intelligent handling of racism in America (or more specifically, Los Angeles). This is definitely the kind of film that can grow, or at least hang around for several weeks on word-of-mouth, and it should also gross about $7 million this weekend.

A notable limited release this weekend is Layer Cake, a Brit gangster film by Matthew Vaughn, Guy Ritchie's second-in-command (though Ritchie's name is nowhere on the picture). Based on a successful novel, it's all about drugs, guns and money, and what happens when all these things get mixed up. It's nothing we haven't seen a thousand times before, sure, but it's all about the presentation and style. Starring Daniel Craig, who you don't know but will probably recognize, and a cast of many other British character actors, it was a mild hit in its native country, bringing in 4 million pounds. Those aren't numbers that would translate into any kind of "hit" on this side of the pond, but then Lock, Stock and Two Smoking Barrels never saw a wide release either.