Weekend Forecast for May 6-8, 2005
By Reagen Sulewski
May 6, 2005
BoxOfficeProphets.com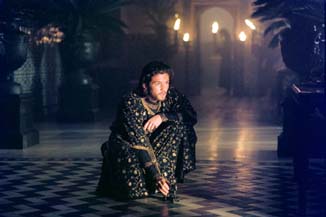 ---
The first weekend of May brings us our first historical epic of the summer, but unlike similar films in previous years, it is not alone. Three films debut, each hoping they have the stuff to be an early summer performer.

Kingdom of Heaven is the latest from Ridley Scott, and it doesn't much hide the fact that it's riding the wave of success of Scott's own Gladiator from five years ago. Set at the period of the Third Crusade in a time period rarely seen on film, it stars Orlando Bloom as a peasant-turned-knight who battles in the Holy Land against the invading Muslims. Of course, at the time, the Muslims were more or less the good guys, with the Crusader state ruling with an iron hand and failing due to internal corruption. The movies ads do well to hide this angle of the film and in fact you'd be hard pressed to determine who exactly Bloom is fighting.

At any rate, Kingdom of Heaven promises tons of medieval warfare, with its hordes of charging armies and siege weapons. In addition to Bloom the warrior (just… try to stop snickering, okay? It's rude), we also have Liam Neeson and Jeremy Irons as Christian Knights, Edward Norton as the leper King Baldwin, and Brendan Gleeson as a bloodthirsty warrior.

With the precedent of Gladiator, Kingdom of Heaven will be shooting for Academy Awards, and perhaps even Best Picture. Although early reviews have been slightly on the negative side, the positive reviews have hailed the film for its fair treatment of the subject and for giving its lead character some depth. Poor reviews didn't stop Troy from opening over $40 million, and Kingdom of Heaven should do likewise. Orlando is, to put it lightly, no Brad Pitt, but the action should carry the day, even if the commercials are without as distinct a shot as the thousand ships launching. Look for Kingdom of Heaven to earn $45 million this weekend.

House of Wax, the latest remake from the Dark Castle horror company, is easily most notable for being Paris Hilton's largest non-porn role to date. The latest variation on the "teens get murdered in a creepy little town" film, it also stars the girl next door, Elisha Cuthbert and the two male flavors of the moment, Chad Michael Murray and Jared Padalecki (who amusingly played rivals on Gilmore Girls). Ending up at the whims of the curator of a small Iowa town's only attraction, the House of Wax, they discover that the lifelike nature of the sculptures is for a good reason. In other news, Soylent Green is made of people.

Producers have done well to highlight the fact that Paris Hilton dies early and violently, knowing what the audience really wants. Watching this overexposed "celebrity" get offed might be the most satisfying thing early this year, although we still have to deal with her for as long as she's not killed. I suppose the only question will be how to tell the wax version of Paris from the real version.

Slasher films have found a comfortable niche of late, and since they are produced cheaply, we can expect to see a lot more of them. Warner Bros has definitely pushed hard on the advertising, and is certainly hoping that the notoriety of Hilton and the teen popularity of the other leads in the film can push to a higher level of box office. They might get part of their wish, as the film certainly has a higher profile than many others in its genre, but it's still a slasher film, and a Scream is unlikely to occur again for awhile. Give House of Wax about $17 million for its debut.

Crash is Million Dollar Baby screenwriter Paul Haggis's first directorial effort in over a decade, and a hopeful follow-up to his Oscar winning script from last year. Tackling the subject of racism through a interconnected group of Los Angelinos, it has a Magnolia or Short Cuts-esque plot line featuring Sandra Bullock, Matt Dillon (in a potentially breakout role), Brendan Fraser, Don Cheadle, Thandie Newton and a host of others. The heady subject matter may be a difficult sell, and the studio has not pushed the film strongly, but it was a Toronto Film Festival favourite last year, and has been getting very strong positive buzz. Debuting on 1,864 screens, it should earn around $8 million this weekend and has the potential to build.

The Hitchhiker's Guide to the Galaxy was a mild disappointment at a $21 million opening, though it's ridiculously cheap $45 million budget quote softens that blow considerably. The ravenousness of the fanbase is likely to result in a steep drop from opening weekend, although with some fans and new converts rating the film highly, it may not be quite as bad as others. It will probably drop to around $12.5 million for week number two.

Outright bombing, though, was XXX: State of the Union, with a franchise-killing $12.7 million open. The bad word-of-mouth from the first film plus the cast change caught up with this sequel, destroying any idea about turning this into a new rotating action series. Look for a steep drop to around $6 million.

The Interpreter was able to outlast XXX2, grabbing second place away from it with $13.8 million, a decent holdover, at least of late. It looks headed for about an $80-90 million final box office total.