Friday Box Office Analysis
By Tim Briody
April 30, 2005
BoxOfficeProphets.com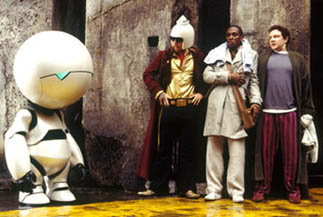 ---
Believe it or not, the summer movie season started this weekend. The box office is certainly behaving like we're still in the middle of spring, though.

The Hitchhicker's Guide to the Galaxy

A $8.1 million opening night is a very good start for the Douglas Adams adaptation. The only caveat here is that it's a film with a small, but loyal, built-in fanbase and that could severely impact the internal multiplier over the remainder of the weekend (sorry, a 4.2 multiplier is not terribly likely). We'll give Hitchhiker's Guide to the Galaxy a conservative 2.7 multiplier and a $21.8 million weekend.

XXX: The State of the Union

Ice Cube's turn as secret agent XXX starts off with a paltry $4.3 million Friday, a considerable decline from the $17.5 million Vin Diesel's original film opened to in August of 2002. After a series of questionable decisions (The Chronicles of Riddick?) Vin suddenly looks like a genius, especially given the $100 million performance of The Pacifier. Given the sequel factor, the fact that it's an action movie and XXX's 2.62 multiplier, The State of the Union's multiplier should be similar, giving it a disappointing $11.2 million.

Notable Holdovers

The Interpreter holds well, falling only 36.4% from last Friday. The Sydney Pollack thriller should find itself with an overall weekend decline under 30%.

A Lot Like Love slips 40% from a week ago, a number that certainly could've been much higher. Being the top date movie option the Ashton Kutcher movie should improve to somewhere in the vicinity of 35% for the weekend.

Kung Fu Hustle is probably just too weird for mainstream audiences, as it drops 58.5% from last week and will probably be down that much overall.