Friday Box Office Analysis
By John Hamann
April 16, 2005
BoxOfficeProphets.com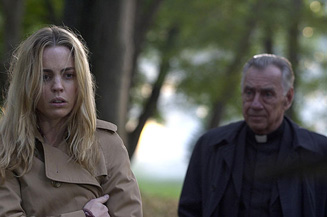 ---
It's set to be another quiet weekend at the box office as studios (and moviegoers) continue to hibernate before the summer blockbuster season. Numbers compared to last Friday weren't devastating, but they weren't anything to write home about, either. The lone bright spot is the opener, the remake of The Amityville Horror, which will easily make its production budget back after opening weekend.

The Amityville Horror

MGM's last kick at the can comes in the form of The Amityville Horror, with Ryan Reynolds starring as MGM shareholders and Kirk Kerkorian as the House (kidding). Co-produced with Sin City's Dimension Films, Amityville got off to a great start on Friday, but that's probably where the good news will end. The fright flick, produced by, amongst others, good-idea-killer Michael Bay, earned $8.8 million on Friday night, which was at the higher end of expectations. The R-rating, its date movie status, and questionable word-of-mouth should keep the multiplier down this weekend. I'll be generous and give it a 2.7, which would give Amityville a weekend total of about $23.8 million, which would certainly be rounded up to $24.1 million. This will be a great start for this one, as it had a negative cost of only $18 million, well below the current average.

Notable Holdovers

Because of the lone opener with a strict target audience, holdovers had a chance to perform this weekend. Last weekend's number one film (and the year's most expensive), Sahara, dropped 40% compared to last Friday, but should rebound quite nicely. Sahara earned only $3.7 million on Friday, but with a 3.3 multiplier, should gross about $12 million (or more), and drop 33% for the weekend – it needs all it can get considering Crusader Entertainment's $130 million production budget. Date movie Fever Pitch dropped 38% from its open last Friday, and should finish the frame with about $9 million, down a slim 30% for the weekend. Frank Miller's Sin City continues to earn its cult status, as it was down 51% from last Friday.