Mad Black Woman Dominates Hitch
Weekend Box Office Wrap-Up for February 25-27, 2005
By John Hamann
February 27, 2005
BoxOfficeProphets.com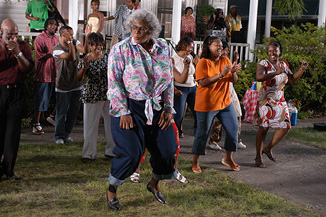 ---
As we settled into Oscar weekend, one thing was apparent. Will Smith's Hitch had a better than decent shot at repeating as the number one box office title as long as Wes Craven's Cursed didn't sneak up and bite Will on the ass. However, prognosticators did not see a 'little film that could' like Diary of a Mad Black Woman from Tyler Perry and Lions Gate Releasing. It's been a year since You Got Served came out of nowhere and dominated the box office, and again urban audiences have served the box office.

The number one film at the box office this weekend goes to the title no one saw coming, Diary of a Mad Black Woman. Released to only 1,483 venues, the stage adaptation performed exceptionally, grossing a divine $22.7 million over its first three days. It had an out-of-this-world venue average of $15,306 – that's bigger than the first weekend venue average of Hitch ($12,068) and Constantine ($9,903), two films that cost their respective studios $170 million to make. Diary of a Mad Black Woman cost Lions Gate a tiny $5.4 million to produce, and with the film earning $7.1 million over its opening Friday and $22.7 million over opening weekend, writer and producer Tyler Perry will have a busy schedule ahead. For Lions Gate, this is another financially solid release, following the likes of Saw ($55 million domestic, budget $1.2 million), Open Water ($30 million domestic, budget $500,000) and Fahrenheit 9/11. Diary of a Mad Black Woman shows how powerful the urban audience is, and joins a growing number of successful urban films like Barbershop ($75.8 million gross, budget $12 million), How Stella Got Her Groove Back ($37.7 million gross, budget $20 million), Soul Food ($43.7 million gross, budget $7.5 million) and You Got Served ($40.4 million, budget $8 million), just to name a few. Reviews weren't great for Diary, but they don't really matter. RottenTomatoes found 73 reviews, and only 13 were positive, leading to a rotten rating of 18%.

Second spot goes to Will Smith's Hitch, which grossed another $21 million this weekend. Hitch dropped only 33% and had a venue average of $5,880 from 3,571 screens. The Columbia Pictures release (distributed by parent company Sony) crossed the $100 million mark on Thursday, and now sits with $122 million. With the smallish drop, Hitch should have at least two more weekends above the $10 million mark and should finish with at least $180 million. If Hitch sees $190 million, it will become one of Will Smith's biggest movies, finishing behind only Men in Black ($250 million finish) and Independence Day ($305 million domestic). With a $70 million production cost, Sony and Will Smith's Overbrook Entertainment has to be very happy with domestic sales, as well as the sequel opportunity. The international portion of the release schedule for Hitch swings into high gear next weekend, which will bring in even more revenue for the Sony property.

Pulling up in third this weekend is last weekend's number two film, Constantine. Similar to many comic book properties, Constantine took a nosedive this weekend, dropping a severe 60%, grossing $11.8 million. Still on 3,006 venues, the Keanu Reeves starrer had a venue average of $3,932. The Oscars weren't to blame for Constantine's drop; less-than-excited word-of-mouth is more likely the cause. Additionally, the film was coming off of a holiday weekend, when even three-day figures are inflated due to a holiday Monday. So far, Constantine has earned $50.8 million and will have to work hard to reach the reported budget figure of $100 million; however, home video alone on something like this will make it worth the effort.

Cursed, supposedly the only film with a chance at dethroning Hitch this weekend, finishes a very distant fourth. The new PG-13 rated 'horror' flick from Wes Craven and Kevin Williamson, laid a bit of an egg this weekend, grossing only $9.6 million from 2,805 venues. It had a venue average of $3,409. Why Dimension Films decided not to screen this for critics mystifies me. We've had one brutal horror film after another released in 2005, with all of them screened for critics, and all of them grossing more in their first weekend than Cursed. Why hold it back? Dimension should know that in the age of the Internet, bad word-of-mouth travels fast, and that moviegoers are more likely to listen to the 'net than their local newspaper movie review. If White Noise can gross $24 million over opening weekend while being massacred by the critics, there's no reason Cursed shouldn't do the same. Could moviegoers be apathetic toward horror after so many similar releases in 2005? Maybe, but a better ad campaign and better-manufactured word-of-mouth should have saved the day on this one. Cursed cost Dimension and Wes Craven a reported $40 million to make, meaning it was much more expensive than the other horror titles released this year.

Fifth this weekend goes to our last opener, and is the reason why Tommy Lee Jones should fire his agent. Man of the House opened well back of its contemporaries this weekend, earning $9 million from 2,422 venues. The Revolution film earned a not-so-good venue average of $3,715. Man of the House was another film not screened for critics (this wasn't going to work even with good reviews), and was an expensive release for Revolution Films. Man of the House cost the studio $40 million to make, and they are going eat a lot of that, as this one should crash and burn next weekend. Joe Roth must have been drunk when he greenlighted this one.

It's sixth place before we get to one of tonight's Best Picture nominees in Million Dollar Baby, and that may be an omen of ratings for the Oscar telecast. Million Dollar Baby grossed another $7.2 million this weekend, increasing on last weekend's take by 6%. Warner Bros added 20 venues to celebrate Oscar weekend. Hopefully for the studio, MDB will emerge as the big winner tonight, as it's their only chance to catch The Aviator as the highest-grossing Best Picture contender. So far, MDB has earned $64.7 million while The Aviator sits with $93.8 million.

Landing in seventh this weekend is Walden Media's Because of Winn-Dixie, distributed by Fox. Winn-Dixie grossed $6.8 million this weekend, dropping a decent 34%. Walden will be happier with this one than with Around the World in 80 Days and I Am David, as World earned $20 million versus a production budget of $100 million, and David never really got out of the gate. Because of Winn-Dixie has now earned $22.2 million versus a production budget of only $15 million.

Are We There Yet? finishes eighth this weekend, as it winds down a successful run at the box office. This weekend, Revolution's other film in the top ten grossed $4 million, down 36% from last weekend. This one will pay for Man of the House, as it cost Cube Vision and Revolution $50 million to make, versus a domestic gross of $76.4 million so far.

Ninth goes to The Aviator, which may have earned more than its Oscar contemporaries, but cost a whole lot more as well. The Aviator brought in $3.9 million this weekend, down 7% from the previous frame. The Aviator cost Miramax $110 million to make, and has so far brought in $93.8 million. We'll see in a few hours whether the biggest box office film takes home the Best Picture trophy.

Tenth place belongs to Son of the Mask from New Line Cinema. The semi-sequel grossed $3.8 million this weekend, dropping 50%. So far the un-necessary sequel has brought in $14 million.

Finishing just outside of the top ten is Sideways from Alexander Payne and Fox Searchlight. Sideways continues to find an audience, despite being in release for 19 weekends. The Paul Giamatti film earned another $3.5 million, down only 9% from the previous frame. Sideways has now grossed $63.1 million versus a tiny production budget of only $16 million.

Overall, box office was up significantly over last year, when the top ten films earned only $70 million. This weekend, thanks mostly to Diary of a Mad Black Woman, the top ten movies at the box office finish with a powerful $100 million, well ahead of last year.