Friday Numbers Analysis
By Tim Briody
February 26, 2005
BoxOfficeProphets.com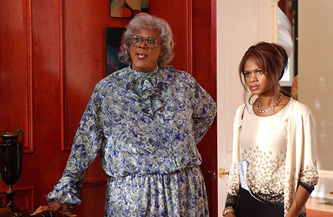 ---
As we head into the Academy Awards on Sunday, we see a bit of an upset in the Friday numbers, though Will Smith should still come out on top once the weekend estimates are released.

Diary of a Mad Black Woman

The stage adaptation opened to $7.1 million Friday, an impressive feat on less than 1,500 screens. Films with similar release patterns tend to start out strong but fade over the rest of the weekend. It's also hurt a little bit (but not as much as other films) by the Academy Awards on Sunday. We'll give Diary of a Mad Black Woman a 2.7 internal multiplier for a $19.1 million weekend.

Cursed

The reteaming of Wes Craven and Kevin Williamson, being the umpteenth horror film already released in 2005, doesn't work very well as Cursed managed $3.8 million Friday. It's also not as likely to be kneecapped by the Oscars, but it's still a horror movie. Call it a 2.6 multiplier and a $9.9 million weekend.

Man of the House

Tommy Lee Jones' comedic attempt took in $3.1 million Friday. It certainly could've been worse, though something tells me that it all Sony really wanted to do was beat Vin Diesel's The Pacifier into theaters by a week. We'll be nice and give it a 2.7 multiplier and an $8.4 million weekend.

Notable Holdovers

Hitch drops just 32% from last Friday as it enters weekend number three and finds itself well over the $100 million mark. It's hurt a little more by the Oscars than other films are, but Will Smith's romantic comedy should again find itself in the top spot by less than a million dollars.

Constantine doesn't fare nearly as well as it plummets 67.8% from last Friday. The Keanu Reeves film will finish the weekend down 60% from a weekend ago.

The three Best Picture nominees still in the top ten all have slight upticks from last Friday, even without the addition of any screens. The Aviator will cross the $100 million mark first in a few days, but Million Dollar Baby still has the most momentum and could very well end up being the highest grosser of the five films if it picks up enough awards on Sunday.