Friday Box Office Analysis
By Tim Briody
February 19, 2005
BoxOfficeProphets.com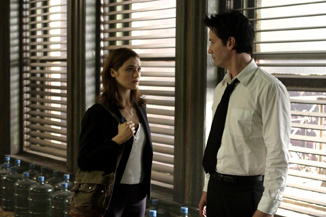 ---
Keanu Reeves makes a big return to action with Constantine, but looks to come up just a little bit short of Will Smith in an attempt to open in the top spot. In other news, two $30 million films in February? The hell?

Constantine

Keanu Reeves' comic book adaptation pulled in $11.5 million Friday, a decent start to what seems to be a well-received film among audiences. We'll give it a 2.68 internal multiplier (that being the multiplier for two of 2004's B-list comic adaptations, The Punisher and Hellboy) for the three-day weekend and a $30.8 million tally.

Because of Winn-Dixie

Taking in $2.9 million Friday, the family film can pride itself on outgrossing Son of the Mask by nearly a million dollars. Other than that, there's not much other good news. We will give it a family-friendly 3.1 mulitplier and an $9.0 million weekend.

Son of the Mask

Everybody can point and laugh at the $2 million taken in by Son of the Mask on Friday. And since this is a sequel that Jim Carrey wanted nothing to do with, the best internal multiplier comparison is that other sequel that Jim Carrey wanted nothing to do with: 2003's Dumb and Dumberer with a stellar 2.36 internal mulitplier. Applying that to Son of the Mask gives us a $4.7 million weekend.

Hitch

Hitch holds quite well, dropping only 34% from last Friday. It's going to be neck and neck with Constantine, but Will Smith's romantic comedy will most likely prevail by under a million. The overall weekend decline could be as low as 25% as it becomes the date film of choice over the next several weeks.