Weekend Forecast for February 18-21, 2005
By Reagen Sulewski
February 18, 2005
BoxOfficeProphets.com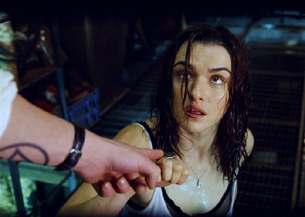 ---
February: it's the new May, at least far as the studios would have you think. The second month of the year is starting to become a little bit of a "blockbusters in training" period. One such mid-major debuts this week, although with a couple other films that shouldn't make much impact.

The highest profile of these is Constantine, the latest comic book adaptation to hit the big screen, although no capes or webslinging are in evidence. Based on the comic Hellblazer, it revolves around a detective of the paranormal, John Constantine, who has managed to piss off both heaven and hell. Attempting to get back in the good graces of the guy upstairs, he now battles demons in this world.

Keanu Reeves plays the title character, much to the consternation of fans of the comics, for three reasons: he's brunette, not blond; American, not English; and, well he's Keanu Reeves, and not known for projecting a bad ass persona, Matrix aside. However, specifically because of The Matrix, he's a box office draw in this kind of thing, and this time, he's the one holding the blue and red pills. It actually slips into that rare breed of film, action-horror, though another fair comparison might be Blade without the martial arts.

Apocalyptic films like this can easily descend into silliness and become overwrought, so it's a good sign that the film has received as positive a critical reception as it has, currently sitting about 50/50 on Rotten Tomatoes. This is likely to be a divisive movie, with many who love it, and many who hate it. What matters now is whether they come out for opening weekend, and an excellent trailer with striking visuals makes that pretty likely. Look for around $35 million over three days and about $42 million over the President's Day weekend, giving Constantine first place.

I've got a great promotional idea for this weekend's Because of Winn-Dixie (whose title just invites wags to complete the sentence); free insulin shots since a viewing of the film is likely to send anyone over the age of 12 into a diabetic coma. Abandoned by her at age three, Opal, played by Annasophia Robb, moves to a new town with her preacher father (Jeff Daniels). In the course of adapting to the strange and oh-so-eccentric characters in town, she find a Benji-esque mutt who teaches her all about life and family and hope and all that junk. Why is this not a Hallmark Movie of the week?

Based on a popular children's novel and directed by Wayne Wang, the film also stars Cicely Tyson, Harland Williams, another brat from the Fanning family and Dave Matthews, who was apparently looking for a project with as much edge as his music. Bland works in this kind of project, however, and it's likely to justify its production with about $10 million over the holiday weekend, thanks to a massive 3,188 screens.

Son of the Mask is one of those cautionary tales that makes us realize we have to be very, very careful what movies we choose to make hits, lest we get sequels like this one. I mean, let's face it, The Mask was not that good of a movie anyway, and now in place of Jim Carrey we get his Mexican non-union equivalent, Jamie Kennedy? All of a sudden, between this and Alone in the Dark, the race for worst film of 2005 has heated up. If critics can hold their ground, this may be the first 0 percenter at Rotten Tomatoes this year.

A toddler gets to wear the mask for a time too. Apparently, the producers of this film looked at the first one and decided it "needs more dancing baby", falling prey to the fallacy that animatronic or CGI children running amuck is funny. Alan Cumming humiliates himself for a bit as Loki, guardian spirit of the mask. Proudly announcing itself as sharing a director with Cats & Dogs (why?), this movie is another one to add to the list of "movies you cannot like and be my friend". Wasting a ridiculous amount of film stock by opening on 2,966 theaters, this should earn about $8 million over four days, and then we can go on to pretending that it never happened.

Will Smith's first foray into romantic comedy was pretty much exactly as successful as would be expected, earning $43 million opening weekend and then another $7 million on Valentine's Day. It's the odds-on-favorite to lead the first part of the year in box office earnings, and could push into the $150 million range total. It should receive healthy word-of-mouth so watch for Hitch to take in about $32 million over the holiday weekend.

Are We There Yet? continues to hold strong, holding on to third in its fourth weekend of release. Earning over $60 million so far and defying all common sense and decency, it sees its first direct competition this weekend for the family dollar. Fortunately for it, both kind of suck. Give it $7 million over the weekend.

Million Dollar Baby continues to lead Oscar contenders in the box office charts, moving up one spot last weekend to fourth. It gets displaced by all three new films this weekend, but still looks to earn about $6 million over the President's Day holiday. It will definitely trail The Aviator in box office by Oscar night, although it may be able to pass Sideways, which has very stealthily earned over $50 million to date.

Boogeyman dropped near 50% in its second weekend, becoming approximately the seven jillionth cheapo horror film to not have legs. If you really insist on seeing this film in theaters, do it quick. It should fall at least this much again, to about $5 million.