Friday Box Office Analysis
By Kim Hollis
February 5, 2005
BoxOfficeProphets.com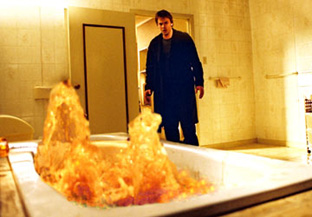 ---
It's Super Bowl weekend, which means that studio releases are more or less limited to stuff that won't be remembered in a month or so. This year, we're looking at a tame horror flick from Sam Raimi's production company and a light, fluffy rom-com with a television star looking to cross over.

Boogeyman

As it happens, the massive and relentless marketing campaign combined with the smart tactic of attaching the aforementioned Raimi's name to the film helped Boogeyman to manage an impressive $8.5 million this weekend. Traditionally, Super Bowl weekend has not been kind to new releases, and this year should be no exception. A 2.4 Friday-to-Sunday multiplier would give Boogeyman a $20.4 million debut weekend. It should be noted that a smaller number isn't out of the question, though.

The Wedding Date

Universal has to be pretty thrilled that The Wedding Date started the weekend with a $4.2 million Friday, particularly because they chose to roll it out on only 1,695 screens. Since it's specifically been positioned as counter-programming to what is perceived as the manlier fare in the Super Bowl, it should hold up decently. Look for a 2.8 multiplier from Friday-to-Sunday and a three-day total of $11.8 million.

Notable Holdovers

Hide and Seek fell a pretty hefty 60% from last Friday. Expect that number to hold up over the weekend, too, which means the Robert De Niro/Dakota Fanning partnership should tally another $8.8 million over Friday-to-Sunday.

The wonderful Million Dollar Baby held up very well from its wide release start last week. It dropped a slight 15% and is looking at an additional $10 million or so.

Likewise, Sideways drops only 12% thanks to the bump it's receiving from numerous Academy Award nominations. The Paul Giamatti film will add $5.4 million to its very solid run.