Friday Box Office Analysis
By Tim Briody
January 28, 2005
BoxOfficeProphets.com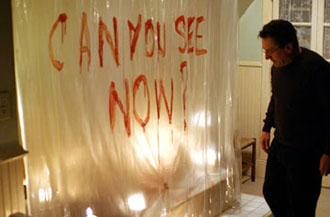 ---
If it's January, there must be a critically-savaged horror film at the top of the box office. Fortunately for the sanity of several members of the BOP staff, another horror film failed to make the top ten. Elsewhere, three of the Best Picture nominees see post-nomination bounces.

Hide and Seek

The Robert DeNiro/Dakota Fanning thriller scored a very good $8 million Friday, easily outpacing everything else in theaters. White Noise managed a 2.9 internal multiplier a few weeks ago; however, there was considerably less quality in theaters then, so Hide and Seek probably won't duplicate that feat. We'll bump it down to a 2.75 multiplier for a still solid $22 million weekend, giving the month of January a new record of three $20 million films.

Million Dollar Baby

Clint Eastwood's Academy Award nominated boxing film took in an estimated $3.3 million Friday on 2,010 screens. That's a very good start for the film widely believed to be the Best Picture frontrunner. Million Dollar Baby should see a very good internal multiplier for the weekend, and something in the vicinity of 3.3 gives it $10.9 million in its first weekend of wide release.

Alone in the Dark

All we can say about this disaster is that it made less than a million dollars on Friday, and will probably finish below tenth place for the weekend with less than $3 million. Hooray!

Notable Holdovers

Last week's champ, Are We There Yet?, sees an excellent Friday-to-Friday decline of only 30.5%. The most family-friendly film in the top ten, Are We There Yet? should see a weekend decline of under 25%. Ice Cube: King of the Family Comedy. Who knew?

Assault on Precinct 13 falls 48.3% from a week ago, and the bleeding should be kept under 50% for the weekend, but it's a quick trip to DVD from here.

With multiple Oscar nominations, The Aviator sees a 33% uptick from last week as it keeps hope alive in eventually becoming a financial success for Miramax. Sideways is another beneficiary of the Academy, as it will finally land in the weekend top ten after fourteen weekends in theaters. It's up a mammoth 85.1% from last Friday.