Box Office 'There' for Revolution
Weekend Box Office Wrap-Up for January 21-23, 2005
By John Hamann
January 23, 2005
BoxOfficeProphets.com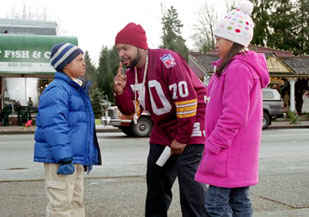 ---
Joe Roth and his Revolution Studios have been lucky with comedy over the latter part of 2004, and now continue that trend in the beginning of 2005. Despite being one of the worst reviewed movies of the year, Roth's Christmas With the Kranks earned $74 million domestically after earning $30 million in its first five days. Revolution's next comedy, Ice Cube's Are We There Yet? opened this weekend, surpassing expectations with an $18.5 million opening weekend. Are We There Yet? was reviewed similarly by critics, and is an early entry for Worst Movie of the Year. Again, the question is raised: why do people pay to see this stuff?

The number one film of the weekend is Revolution Studios Are We There Yet?, the critically reviled comedy starring former gangster rap star Ice Cube. AWTY earned $18.5 million over the weekend after starting on Friday with an excellent $5.7 million. The kid-friendly film had a fair weekend multiplier of 3.25. Distributed by Sony's Revolution Studios, the comedy garnered a good venue average of $6,829 from 2,709 venues. Are We There Yet? is from movie-terrorist Brian Levant, who has brought us art like Snow Dogs, The Flintstones (and its sequel) and Jingle All the Way. Are We There Yet? earned a dreadful seven positive reviews out of a possible 65 at RottenTomatoes, giving it a fresh rating of only 11%. Are We There Yet? may have filled a comedy void in theatres, as Meet the Fockers has sales of over $245 million, so many folks were eager for new humor. It's also been five weeks since Fat Albert was released, so AWTY also took aim at the urban market as well.

Are We There Yet? cost Revolution Studios and Cube Vision $50 million to make, so it was a significant gamble, as Ice Cube had never been featured in this sort of role before. After Eddie Murphy found success in films like Daddy Day Care, Doctor Dolittle and The Haunted Mansion, the model was created. The opening weekend for Are We There Yet? will give Cube a broader audience, and should give him more acting choices. For his next out of the box role, Ice Cube goes for Blockbuster Action Star status in XXX: State of the Union, which actually has a great trailer and supporting cast in Samuel L. Jackson and Willem Dafoe. It could be a big year for the Cube.

Speaking of Samuel L. Jackson, his Coach Carter finishes second this weekend with a sophomore haul of $11 million, but that's where the good news ends. In its second weekend, the Paramount film dropped 55% compared to last weekend's three-day haul of $24.2 million. For the production companies involved, none of this matters. Coach Carter cost them $30 million to make, and has so far grossed $43.2 million. For distributor Paramount, the mini-roll continues as the studio's previous releases include the Lemony Snicket movie and SpongeBob SquarePants. The last time Paramount had three films gross more than $75 million consecutively was in 2000, when Rugrats in Paris, What Women Want and Save the Last Dance were released in a three-month span.

Third this weekend is Meet the Fockers, still in the top three after five weekends of release. Fockers took in another $10.1 million this weekend, as it moves up the chart of biggest releases ever, passing Bruce Almighty and My Big Fat Greek Wedding. Fockers dropped 47% compared to the previous weekend as it lost 119 venues, bringing its total down to 3,434. The Universal film now has a domestic total of $247.7 million, and will have no problem becoming one of the top 25 films of all time.

In Good Company finishes in fourth, down one spot from its third place finish last weekend. The Dennis Quaid/Topher Grace/Scarlett Johansson flick grossed $8.5 million this weekend. The comedy dropped 47% despite Universal adding 396 venues this weekend. Now at 1,961 venues, the film had a venue average of $4,335 – the second best in the top ten. In Good Company has now grossed $28 million – not bad for a comedy with no 'above the title' stars.

Fifth spot goes to Assault on Precinct 13 with a total I'm sure leaves Rogue Pictures a little disappointed. After the film earned $1.5 million over Wednesday and Thursday, the three-day weekend total came in at only $7 million. Snow in the northeast on Saturday night and football on Sunday may have dug in to Assault's three-day total. The good news for Rogue is that reviews are decent for the thriller, and production costs were kept quite low. RottenTomatoes gathered 94 reviews, and 58 were positive, leading to a 62% fresh rating. As for production costs, the budget was $30 million, so if Assault can hold over the football-free weekend in the next frame, the John Carpenter remake might find financial success.

Sixth this weekend goes to Racing Stripes, WB's entry into the Snow Dogs sweepstakes. After opening solidly with almost $14 million last weekend, Racing Stripes fell hard in its sophomore frame. Stripes grossed $7.1 million this weekend, down an alarming 49% from the kid-friendly Martin Luther King Jr. weekend. Shot way back in 2003, Racing Stripes is finally pulling in some cash for production company Alcon Entertainment. After two weekends, Racing Stripes has earned a decent $27.3 million.

White Noise,the Michael Keaton thriller, continues its quick exit as it winds up in seventh place. After dropping 50% to $12 million last weekend, White Noise managed to do the same thing again this weekend. White Noise grossed $5 million in its third frame, dropping a large 58%. The good news is that White Noise is from Gold Circle Films, a production company that makes films for under $25 million – and their thriller has a total now of $49.4 million. For distributor Universal, White Noise is their third film in the top seven, following Meet the Fockers and In Good Company.

Eighth goes to The Phantom of the Opera, which finally expanded into a wider market this weekend. Last weekend, Phantom grossed $3.7 million from 907 venues. This weekend, WB added 604 venues, bringing the total up to 1,511. The move worked fairly well, as The Phantom of the Opera grossed $5 million, increasing on last weekend's take by 37%. Currently the $70 million production has $33.6 million in ticket sales.

Hanging onto ninth is Miramax's The Aviator after a big Golden Globe win last weekend. To celebrate, the studio added 305 venues to the film's release strategy, and the biopic held quite well. The Aviator grossed $4.8 million this weekend from 2,261 venues, and managed to hold very well compared to last weekend's gross, dropping only 5%. The Martin Scorsese flick has now earned $58 million.

Tenth this weekend goes to the disaster Elektra. The Jennifer Garner flick dropped a simply massive 70% this weekend, pulling in a tiny gross of only $3.8 million. The good news for Fox is that the budget for Elektra wasn't incredibly high, coming in between $30 and $40 million. So far, the comic book flick has grossed $20.2 million.

Overall, box office held well compared to last year. In 2004, the top ten grossed about $78 million. This weekend, the top ten earned a similar $81 million.