Friday Box Office Analysis
By John Hamann
January 22, 2005
BoxOfficeProphets.com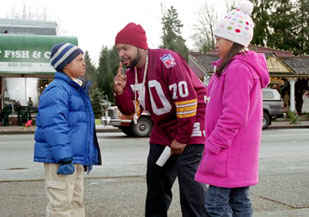 ---
With The Aviator, The Phantom of the Opera, Sideways, and In Good Company expanding this weekend, would there still be room for newbies Assault on Precinct 13 and Are We There Yet? Some box office observers were looking for Meet the Fockers to rise back to the top over a slow weekend – but not BOP's Reagen Sulewski – he correctly picked Are We There Yet? in top spot.

Are We There Yet?

The new critically reviled comedy from Ice Cube starts the weekend in top spot, grossing $5.7 million on Friday. Producer Revolution Studios was looking for fire in a bottle twice, as the studio saw a huge domestic gross ($104 million) from Daddy Day Care with Eddie Murphy. Daddy Day Care had a very impressive weekend multiplier of 3.6, but was released in early May and amongst the target audience, had much better word-of-mouth. Dialing that down a bit to 3.1 leaves Are We There Yet? with a weekend total of about $17.7 million. Not bad for a film that sits with a 11% fresh rating at RottenTomatoes.

Assault on Precinct 13

The remake of John Carpenter's Assault on Precinct 13 stumbled out of the gate after opening on Wednesday. The film earned $1.5 million over Wednesday and Thursday, and Assault made $2.3 million on Friday night. Reviews are very good, as is word-of-mouth, so I'll give the Ethan Hawke/Laurence Fishburne film a multiplier of 3.3, even though it's sure to be hammered versus football on Sunday. Look for a Friday-to-Sunday gross of about $7.5 million and a five-day tally of $9 million. Assault was made for only $30 million, so Rogue Pictures could still have a winner on its hands if this action movie shows any legs at all.

Notable Holdovers

Jennifer Garner's Elektra did a Ben Affleck bellyflop in its second weekend, dropping 70% compared to its first Friday. In Good Company, despite adding almost 400 theatres, dropped 35% compared to last Friday. Coach Carter, last weekend's big winner, slid an alarming 55%. The Fockers just keep on turning, as the Ben Stiller comedy grossed another $3.2 million, and should finish the weekend above $10 million (again) and wind up in second place, just ahead of Coach Carter.