Weekend Forecast for January 21-23, 2005
By Reagen Sulewski
January 21, 2005
BoxOfficeProphets.com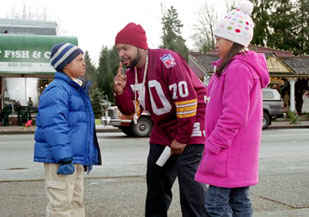 ---
With the Oscar nominations race effectively over (noms are announced on Tuesday), we are left to kill yet more time with a couple of uninspiring January releases that will mostly stay out of the way of the platforming award contenders. Is it summer yet?

A time traveler from 1988 could be forgiven for wondering just what circumstances could have lead to the transformation of Ice Cube from gangsta rapper in N.W.A. to lead in the Bill Cosby-esque Are We There Yet?, since if you think about this career path too long, your brain might literally explode. From being investigated by the FBI for potentially inciteful lyrics to a sanitized, family-film starring comedian. Somewhere, Spike Lee is furious.

Family-friendly might be stretching the definition for this film, which looks like it would give more ammunition to kids against their parents than anything since Problem Child. Trying to impress his girlfriend (played by Nia Long), Cube offers to drive her kids up from Washington, D.C. to New York City, where she's stuck on business. The kids vow to make his life hell on the trip, having rejected anyone as a suitor for their mom. Wacky hijinks ensue, with property and physical damage that would kill someone in a world where our laws of physics prevailed. Good thing it's Hollywood.

Directed by Brian Levant, who also brought us the precise moment when Cuba Gooding, Jr. lost his dignity (Snow Dogs), the low point of Arnold Schwarzenegger's comedy career (Jingle All the Way) - no small achievement in itself, both Flintstones films, Beethoven and Problem Child 2, Are We There Yet? simply represents another of the painful things that pass for entertainment as long as they're aimed at "families" (meanwhile, parents are cringing and wondering if they can skip out to a screening of The Aviator).

That his films have been almost universally successful simply adds to the pain, Snow Dogs having inexplicably made $81 million despite consisting of not much more than Cuba Gooding, Jr. falling down a lot. This kind of "America's Funniest Stunt Effects Reel" shows no sign of fading from popularity, though, and Are We There Yet? looks no worse or no better than any of the other films in Levant's filmography. Opening in 2,709 venues, Are We There Yet? should bring in about $20 million this weekend, and may God have mercy on our souls.

Assault on Precinct 13 is the second film in about a month to be a remake of a film you probably forgot had already been made (following December's Flight of the Phoenix). Starring Ethan Hawke and Laurence Fishburne in a remake of the 1976 John Carpenter film, it's essentially a siege film, with a group of dirty cops surrounding the titular police stations, which contains mob boss Fishburne, who could turn them all in. Since they're about to do in everyone in the stations, bad guy or not, the cops and criminals band together to fend them off.

Looking alternately slick and generic, Assault on Precinct 13 looks better than the average January film, though that's not saying much (its presence in this month might be explained by its independent financing and a distribution arm that's looking for an 'in'). Anyhow, Ethan Hawke does his best faux-Cruise, Fishburne smolders as he always does and Drea de Matto dresses in tight tops. 'Splosions and gun fights follow. What more do you want?

Assault on Precinct 13 opened on Wednesday to a modest $800,000, less than Coach Carter, but more than In Good Company. Give it a good amount of early-opening bleed off, and we're looking at an opening weekend of about $10 million. Training Day this isn't, even though it shares a producer.

Coach Carter was able to unseat Meet the Fockers from the top spot at the box office, stopping it from taking number one for four straight weeks. Earning $24 million, or $29 million in the four-day MLK extended weekend, it's one of the latest films to find counter-intuitive success in the first month of the year (see what happens when you don't cede the month to award-hungry films?). If Are We There Yet? fails to catch on, it is the odds-on favorite to hold the top spot, though it is likely to slip to number two with about $15 million and is looking at a pretty respectable final figure of around $80 million.

While it was no longer the top film of the week, Meet the Fockers still earned a tidy sum, and has pushed up to the $235 million mark. This weekend should see it come very close to, if not actually passing the $250 million milestone, and will in very short order become the fourth-highest grossing release of 2004 (though that's as far as it goes).

In Good Company overcame a medium release pattern to finish in third place (on the regular weekend) or fourth (over MLK) depending on how you count the weekend. The Topher Grace/Dennis Quaid/Scarlett Johansson film also earned the second highest per screen average for wide releases last weekend, coming in just behind Coach Carter. The breakthrough of this film bodes well for both Topher Grace's budding leading man career (take that, Ashton!) and Paul Weitz's attempt to become the new Cameron Crowe. Expanding to about 1,900 venues, In Good Company should hold on to a pretty good chunk of last weekend's business, to the tune of about $11 million.

It's got to be a little demoralizing for Jennifer Garner to come up behind Racing Stripes with her try at an action franchise. Elektra finished a solid fifth opening weekend, earning about $15 million over four days. With critics teeing off on the film, don't expect Elektra to have another resurrection. It should end up with just $7 million this weekend, and be available on video quite soon.

Two films with two major Golden Globe wins are in the best position to benefit from awards this weekend, though this bump has traditionally been only minor since there are greater rewards to (potentially) come. I would expect The Aviator, the Best Drama and Best Actor-Drama winner, to hold steady at about $5 million this weekend. Sideways, the Best Comedy and Screenplay winner, nearly doubles its screens this weekend, and should see the biggest overall jump, and to break into the top ten for the first time, also earning close to $5 million. Ray and Closer also could stand to benefit, but are either in very small numbers of screens or are in the process of losing them. Matching Oscar nominations could reinforce this phenomenon.