Coch Carter Schools Box Office
Box Office Report for January 14-16, 2005
By Tim Briody
January 16, 2005
BoxOfficeProphets.com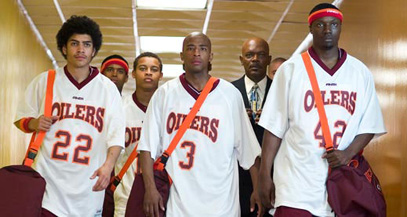 ---
It hasn't been the usual slow start to the 2005 box office season. Last week's lone new release, White Noise, became just the third January film to break the $20 million mark. Two higher profile new releases and one critically-praised expansion look to continue what White Noise started, and to try to bring Meet the Fockers' three-week run at the top to an end.

The number one film this weekend is one of the new releases, Paramount's Coach Carter. The Samuel L. Jackson film took in $23.6 million for the weekend, thus doubling the number of movies to ever open over $20 million in January, a typical box office dead zone. The inspirational coach movie, produced by MTV Films, was fairly well reviewed by the critics, earning a 65% Fresh rating at Rotten Tomatoes. The earnings for Coach Carter came on only 2,524 screens, the fewest of the three new films this week, for a very good $9,350 per screen average. The basketball drama is a needed hit for Jackson, whose last lead role was in last year's Ashley Judd bomb Twisted. It's not very light-hearted fare, but Coach Carter may find some degree of staying power for the remainder of January.

Giving up the top slot after three weekends there is the holiday smash Meet the Fockers, off a scant 33.3% to $19 million. The Universal picture's total now stands at $230.8 million. The Fockers are holding solidly well after the end of the holiday box office bonanza and you have to figure that the cast and director Jay Roach are all counting their millions as we speak. The $250 million mark is well within striking distance, and if it keeps up the weekend declines as it for two weeks straight, might reach another $10 or $20 million higher.

Third this week is the second of the three new releases. Racing Stripes, the live action/animated family film earned $14 million, a figure that Warner Bros. execs have to be pretty happy with. In the vein of Snow Dogs and Kangaroo Jack (both also released on the Martin Luther King Day weekend), it's brainless kid fare for those cold, dark, winter days. Racing Stripes had a very solid 4.37 internal multiplier, something that may actually help it show legs over the next few weeks.

Going from three screens to over 1,500, In Good Company vaults into the fourth spot with $13.9 million. Starring Dennis Quaid, Topher Grace and Scarlett Johansson, the office dramedy benefited from large amounts of critical praise, largely citing the performances of Quaid and Grace. The per screen average was only bested by Coach Carter, so In Good Company is looking for positive word-of-mouth from audiences (and maybe another expansion) to keep going through the winter season. It's gotten off to a good start, though, as its cumulative total adding in earnings from its awards release is $14.4 million.

Finally, we have Elektra. Coming in fifth with $12.5 million in an ultra-wide 3,204 theaters, we've got one of the biggest flops of 2005 halfway through January. Far removed from the $40 million Daredevil earned in February 2002, the action movie starring Jennifer Garner didn't even match Catwoman's $16 million earned last summer (though you have to figure much of that was due to the train-wreck factor). It's also a big step back from Garner's breakout film from last year, 13 Going On 30, which opened to $21 million. Critics absolutely torched Elektra, giving it a mere 7% Fresh rating according to Rotten Tomatoes, a rating even worse than last week's critically reviled White Noise. It's going to be a quick trip out of theaters from here for Elektra, and it's not going to be a very happy Monday at Fox.

White Noise falls from second to sixth in weekend number two, down 49.4% to $12.2 million, a very solid number for a horror film. Creepy certainly sells in January. White Noise has already shown to be profitable for Universal, and it's all gravy from this point. The total for White Noise to date is $41.2 million, and $55-60 million is certainly an attainable goal at this point.

Martin Scorsese's The Aviator drops four notches to seventh this weekend with $4.7 million, off a decent 36.2% from a weekend ago. The tally for the Howard Hughes biopic after five weekends in theaters is $49.9 million. With the Golden Globes being presented tonight, we'll find out whether The Aviator still has a chance to catch fire during the awards season, or if the Miramax release is doomed to be a financial failure.

Also shuffling down four spots in the wake of the four new films is Lemony Snicket's A Series of Unfortunate Events. Down 46.7% to $3.9 million, the children's book adaptation has not held up very well since 2004 ended. The Paramount release has now earned $111 million in five weekends, and should finish at about the $120 million mark, which still leaves some questions as to whether or not more books in the series will be filmed.

Holding in the ninth spot is The Phantom of the Opera with $3.5 million, up 3.7% from last weekend as it added a few hundred screens, yet still remains under 1,000. The musical's total tally to this point is $26.4 million, a far cry from its reported $70 million production budget. Further expansion may not be very likely, so look for a total take in the $35-40 million range.

Finally, Ocean's Twelve spends its sixth and final weekend in the top ten with $2.9 million, down 45.4% from last weekend. The domestic earnings to date for the A-list ensemble caper comedy from Warner Bros. is $119.8 million, and $125 million looks to be the final goal for Danny Ocean's crew.

Fueled by three new films and an expansion, the top ten films this weekend earned $110.2 million, well up from the $89.9 million on this weekend last year, when Along Came Polly was the only new release.