Weekend Forecast for January 14-16, 2005
By Reagen Sulewski
January 14, 2005
BoxOfficeProphets.com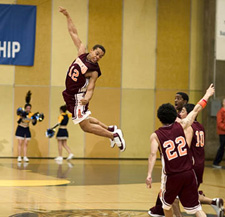 ---
Several wide releases this weekend offer filmgoers plenty of variety, but as far as quality goes, that will be harder to find among them.

Coach Carter may be the most promising of the group of films newly out this week, though that's not much of an achievement. The film stars Samuel L. Jackson as a high school basketball coach who challenged his undefeated yet academically underachieving team to progress beyond inner-city stereotypes. Based on a real coach from a southern California high school, it owes more than a little debt to Hoosiers, the 1986 classic with Gene Hackman as a hard-nosed high school coach.

It's also got a little surface similarity to last year's Miracle, with its focus on its famous coach and his drive for teamwork. The 1980 Olympic hockey win is undoubtedly a more famous sport win than the events of Coach Carter, but the presence of Jackson and some decent looking basketball action probably more than makes up for that. Limited somewhat by a release pattern that give it only 2,500 venues, Coach Carter will likely not take the top spot this weekend, but will still probably be the highest earning of the newly opening films, taking about $16 million.

A spin-off of the itself unremarkable (or just plain bad) Daredevil, Elektra, starring Jennifer Garner, seems to be trying to prove that not everything Marvel touches turns to gold lately. Resurrected after her death in Daredevil, Elektra has become an assassin for hire, that is, until she meets a father and daughter on the run from an evil ninja clan. I can't tell you how silly I felt writing that sentence.

Of course, you can't even really get that information from the commercials for the film, which basically boils down to "Jennifer Garner wears red leather and fights people whose stomachs turn into wolves for some reason". Perhaps they're counting on Alias fans to turn out in droves, but that's never proven to be a winning strategy. Certainly people are familiar with the character, since Daredevil opened to $40 million two years ago, but it's a different story for a film that seems to share almost no stylistic similarities. I hate to say it, but it's looking much more similar to the recent Catwoman than anything, which opened to $16 million but then disappeared from the box office in an awful hurry.

Critics see it much the same way, giving it a big thumbs down, currently scoring it at 4% positive at Rotten Tomatoes, or basically as low as possible. Some may wonder when a decent female-fronted comic book movie will arrive, and it's probably about the time they pay attention to the script. Until then, we're left with this trainwreck, which should do damage to the tune of about $14 million this weekend.

I'm trying to imagine a scenario where the film Racing Stripes would be considered entertaining, and other than being eight-years-old or having recently suffered blunt force trauma, it's just not coming to me. A live action-dubbed film about a zebra raced as a horse that dreams of racing with thoroughbreds. Putting aside for the moment that the 'underdog' nature of the film is undercut by the fact that the top speeds of a zebra and a racehorse are virtually the same (stupid reality), the whole thing defies any common sense. Why not let wolves race with greyhounds? Why not let gorillas in the Olympics (actually, I'd probably pay to see that)?

Oh, but you say, I'm overanalyzing a silly kids' movie, and you're right, to an extent. But this kind of stuff is what gave us Kangaroo Jack, and I'm not about to stand idly by when kids deserve better. With Frankie Muniz as the voice of Stripes the zebra, Mandy Moore as a love(?) interest (what is this, the Discovery Channel?), and a cast of dozens of others lending their voices including Michael Clarke Duncan, Snoop Dogg (why, man, why?), Steve Harvey, David Spade and Whoopi Goldberg (abort! abort!) leads me to believe that they were worried more about who they could draw in for the recording session than in making the movie entertaining.

It's a long-standing tradition to try and suck parents in with 'name' voices in the cast, but, man, even parents have their limits, and kids don't know who these people are. The closest thing to this film might be last year's Home on the Range, which, yeah, was Disney, and yeah, was animated, but seems pitched at about the same level. That opened to $13 million, which is probably out of reach here, although the film is being pretty heavily promoted. Look for about $9 million this weekend.

After a couple of weeks in limited release, In Good Company is finally set to debut wide. Despite an impressive $50,000 per venue average in two separate weekends, the film is expanding to only about 1,500 venues, perhaps betraying a lack of confidence in the film. Starring Topher Grace, Dennis Quaid and Scarlett Johansson, Company places Grace as the new, much younger boss of Quaid, which might be a movie in itself. Upping the ante, Grace, starts a romance with Johanssen, Quaid's daughter in the film and leading, I'm sure, to all sorts of neo-Woody Allen mannerisms from Grace.

With a solidly positive critical reception, the film looks like it could be an early-year charmer, but there's still the issue of its smallish screen count, which will limit it from the top realm of the box office. Even here it should still manage about $8 million on the weekend.

House of Flying Daggers, Zhang Yimou's followup to Hero, expands to around 1,200 venues this weekend, though without the box office clout of even a Jet Li, one wonders what impact this film can make. With little promotion, the wuxia film doesn't seem like a strong contender to make more than a few million at the box office. However, it does offer those moviegoers lucky enough to have it in their area an alternative to Elektra.

First place will belong, once again, to Meet the Fockers, in its fourth weekend at the box office. Having earned about $210 million at this point, it remains the only broadly appealing comedy out there. It hung on to a full 70% of its box office last weekend, which after the New Year's Holiday, is a very impressive figure. With about $19 million this weekend, it should hang onto first place and be the first film since The Return of the King to spend four consecutive weeks at the top of the box office.

White Noise surprised with a $24 million opening weekend and gave Universal the top two films last weekend. The Michael Keaton horror film doesn't appear destined for longetivity, though few January horror films are. While I'm very glad to see Michael Keaton in a hit again, let's hope this leads to better scripts. For its second weekend, White Noise should fall to $13 million.

Oscar contenders continue to expand by dribs and drabs in preparation for nominations that are just a couple of weeks away. The Aviator, Sideways, Million Dollar Baby, Hotel Rwanda, A Very Long Engagement and The Woodsman are all among films that increase their presence this weekend, each with varying box office and awards potential.