Weekend Forecast for December 3-5, 2004
By Reagen Sulewski
December 3, 2004
BoxOfficeProphets.com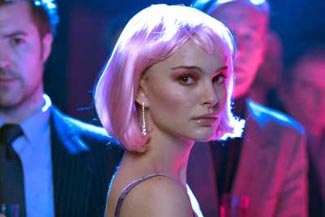 ---
Hollywood takes something of a weekend off after the Thanksgiving binge, but while there are no new wide releases, the gap could give some limited release films some extra attention.

Debuting in 476 theaters, Closer is the latest film from legendary director Mike Nichols, responsible for films like The Graduate, Silkwood and The Birdcage, among others. However, what is getting the film its most attention is its cast, featuring a foursome of Julia Roberts, Jude Law, Clive Owen and Natalie Portman.

"Foursome" may be the most appropriate word here considering the subject of the film, a love-quadrangle set in London. Law is an obituary writer in London who gets involved with Portman, a stripper (Nichols simultaneously became every red-blooded heterosexual male's hero and enemy by both casting her as a stripper, then cutting a full-frontal scene of her from the film). Then during a photo shoot for a book, he finds sparks with photographer Roberts, who herself is hooked up with Owen. Personally, I'm rooting for Portman and Roberts.

As the couple mix and match, love and the state of modern relationships are tackled. Also, people get naked, hop into bed, and threaten each other, not necessarily in that order. Based on a 1997 play, and looking every bit like a play, Closer has Oscar aspirations, but is limited in a couple of respects here. First, critical reception is decidedly mixed, with some praising the film's treatment of sexual politics and its performances, while others grasp for a single likable character and find it shallow. Additionally, even though its cast is top notch, it's still a stagy film about people being mean to each other. Also, aren't we sick of Jude Law already? We just had the comedic "Jude Law sleeps around film", and that flopped, so the dramatic one may not fare much better, even with Julia Roberts.

Still, the hype is pretty strong with this one, and on a weekend where not much else is happening, it should be able to grab a fairly gaudy per screen average. Look for the film to end up in the neighborhood of $4-5 million over three days.

I Am David is also opening in a moderate limited release of a couple hundred screens. About a boy who escapes from a Communist concentration camp with little but directions to Copenhagen, it is about his reawakening to society and the horrors of war. Based on an Anne Holm novel, North to Freedom, it is the major big screen directorial debut for Paul Feig, whose biggest past credit is probably for the TV show Freaks and Geeks, though this bears little thematic similarity.

This film looks like it probably should have debuted on the Lifetime Network, though it's probably due the presence of Jim Caviezel in a limited role that it's getting this level of release. With virtually no one else of renown in the film other than Joan Plowright, I don't expect this to make much of an impact on the box office, with a total of about a half a million likely.

In more limited release is House of Flying Daggers, from Zhang Yimou, who earlier this year finally had his epic film Hero released. Much in the same vein as that one, a historical Wuxia film, Flying Daggers stars Andy Lau and Zhang Ziyi. Nominated for China's top film award, and China's nominee for this year's Foreign Film Award, it's being handled by Focus Features, a bit of a double-edged sword. On one hand, Miramax wasn't able to hold it back for two whole years, but on the other, it doesn't have their promotional power behind it. It should still attract some attention in limited release, earning a couple hundred thousand this weekend.

National Treasure was a bit of a surprise winner at the box office over Thanksgiving weekend, edging out several family films and dropping just 8% over a comparable three-day period. The action-adventure film seems to have yet more charm of the Bruckheimer behind it, and it's well on its way to at least $150 million. In the absence of competition, it should have its third straight weekend at the top, with about $13 million.

The Incredibles moved up from third to second by dropping only 11% over the weekend, and will spend another weekend in either second or third, depending on whether word-of-mouth for Christmas With the Kranks kicks in or not. Prognosis for both is about $10 million this weekend.

The Polar Express was the biggest benefactor of the weekend, jumping almost a full 25% in its three day take, though I expect the post-Thanksgiving lull to hit this film hard. Polar Express and the other major family film still out there, Spongebob Squarepants, should drop to around $6 million.

Alexander is in full on flop mode, and at this point it's not totally a sure thing that it'll hit $40 million domestic. I think we can cross off most of this film's Oscar aspirations.