Hidden Gems - Metallica: Some Kind of Monster
By Kim Hollis
November 30, 2004
BoxOfficeProphets.com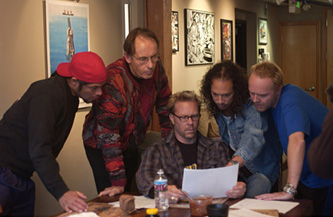 ---
Once upon a time, there was a band named Metallica. They sold tons and tons of records, and life was excellent.

One day, silly little things like personal demons, inter-group conflict, and Napster entered the picture. Suddenly, the charmed existence of these musical madmen was at risk.

Metallica: Some Kind of Monster is one of the better movies to hit theaters in 2004. Sadly, many people will avoid it because they don't like the band – or documentaries. The fact of the matter is, though, that the story this film has to tell is far more compelling than the bulk of the fictional stuff out there.

As the band was preparing to go into the studio to work on the album that would eventually become St. Anger, things began to seriously fall apart. For starters, their bassist, Jason Newsted, abruptly left the band after 14 years of creating music with the group. Rather than actually go forward with hiring a new band member immediately, producer Bob Rock came onboard to handle those duties in a temporary function. Nonetheless, tensions were high enough that the guys felt it necessary to bring aboard a therapist to be at the constant disposal of the band (at the cost of $40,000 per month).

Foremost amongst the problems depicted in the film is the fact that guitarist/vocalist James Hetfield and drummer Lars Ulrich have what can only be described as a contentious relationship. Ulrich's propensity to jabber (and jabber) simply doesn't always jibe well with Hetfield's more measured, internal personality. Because both men have a strong willingness to stand up for their own creative ideas, conflict is inevitable.

Meanwhile, poor Kirk Hammett (the lead guitarist) is left in his own little insular world, struggling because he can't bear the fighting any more. When Hammett becomes the focus of the camera, it's striking to watch his wounded eyes. He's truly like a child who can't quite understand why mommy and daddy are fighting.

Things really come to a head, though, when Hetfield finally comes to realize that he must enter rehab for his addictions to alcohol and drugs. His absence becomes an issue, as his band mates are left with no clue as to when he might return. When he does, after months of leaving them hanging somewhat, he does so only on the condition that he work an abbreviated schedule, saying that he must focus on his family. Even as Hetfield is healing, the group finds it difficult to properly communicate.

All of the clashes take place against a background of creativity. Even as we watch what might be the disintegration of Metallica, we still are able to observe the men as they invent new music that they hope will put them back in the good graces of the fans they angered in the aftermath of the Napster controversy. The album that results is deeply personal, and seeing the film in conjunction with listening to the music makes the lyrics and raging rhythms that much more meaningful.

Metallica: Some Kind of Monster will be available on DVD beginning January 25, 2005. It's one of the better documentaries of the year and certainly a fascinating examination of the turmoil and turbulence that takes place when real life and relationships become a part of making the music.