Black Friday Box Office Analysis
By Tim Briody
November 27, 2004
BoxOfficeProphets.com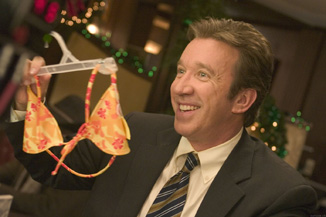 ---
The day after Thanksgiving brings a bounty of dollars to the box office, but at the cost of below average internal multipliers. This weekend sees National Treasure still leading the pack, with Christmas With The Kranks surprisingly outperforming Alexander in the battle of the openers.

Christmas With the Kranks

It's official: Never bet against Tim Allen in a Christmas movie. The film adaptation of John Grisham's Skipping Christmas earned an estimated $9.2 million Friday, giving it a decent $18.7 million after three days. As previously mentioned, internal multipliers are generally miserable all around over the remainder of the weekend, so we'll give Christmas With the Kranks $21.1 million for the weekend and a five-day tally of $30.6 million.

Alexander

Oliver Stone's epic starring Colin Farrell is a disappointment, earning an estimated $5.7 million on Black Friday and $14 million since its Wednesday release. Things don't look to improve much for the historical epic, as Alexander looks to finish the weekend with $13.3 million and $21.6 million for the Wednesday-to-Sunday period.

Finding Neverland

With a few hundred screen expansion, Finding Neverland jumps into the top ten with an estimated $1.8 million on Friday. With a weekend take of around $4.5 million, look for it to expand further through December as the awards season kicks into high gear.

Notable Holdovers

National Treasure will spend a second weekend at the top with a 16.3% increase from last Friday, a typical gain for this weekend. Due to decreased multipliers, the Nic Cage hit should see an overall weekend depreciation of only around 10-12%.

The SpongeBob SquarePants Movie actually declines 22% from last Friday, showing that there was a strong initial rush factor for this film, perhaps fueled by teen and adult fans of the cartoon character. The movie will have a weekend drop of 40-42%, though Paramount is very likely thankful that it made its production budget back in its first weekend.

The Incredibles benefits the most from Black Friday, rebounding 46.6% from last week. In a worst-case scenario, the latest Pixar smash will drop 10% of last weekend's total.