Weekend Forecast for November 19-21, 2004
By Reagen Sulewski
November 19, 2004
BoxOfficeProphets.com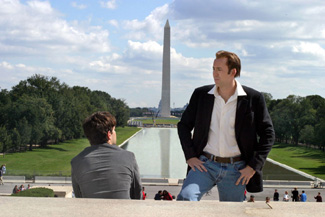 ---
Studios continue to send out their big guns in anticipation of the yearly holiday movie season splurge. An old-fashioned action film (remember those?) and yet another family film continue the blockbuster onslaught of November.

For the third straight weekend, we have a prominent animated film in release. You wonder if there's really enough room for all of them, except for the fact that this third one is based on the most popular cartoon out there (at least with regard to ratings). The SpongeBob SquarePants Movie, starring that titular creepy little Chucky doll of the Sea, hits theaters this week. The charming production looks to equally grab the attention of ADD-afflicted pre-teens and college students stoned out of their gourds.

Not that there's anything wrong with rampant surrealism, of course, if that's your thing. There's not even anything wrong with ironic David Hasselhoff cameos. There is still the age-old problem of how to make something that's funny at a breakneck pace for ten minutes at a time work over 90 minutes. It's what sunk The Powerpuff Girls Movie (...yeah, yeah, shut up) and you wonder if this film can sustain what makes it popular on TV.

These are more second week questions than anything, really, but it's something to keep in mind over the Thanksgiving period. Fans expect and have been promised a manic ride, and that's probably what they're going to get. Nickelodeon's had a decent run at marketing its cartoons, especially Rugrats, though it's hit a bit of a dry spell. Spongebob is much more in line with the studio's best performer than with the also-rans such as Hey Arnold! and The Thornberrys. SpongeBob continues to dominate cable despite the fact that it's only had a handful of new episodes for the past year and a half. There is no reason to think that the loyal fanbase will not show up at least to the same degree they did for Rugrats in 1998. I predict an opening weekend of $28.8 million. Note that this number is updated from earlier today due to some input from my sitemates.

National Treasure's plot can best be described as belonging to the "Are they kidding?" genre of suspension disbelieving action films, until you realize that it's a Jerry Bruckheimer film and you realize, no, no they're not.

Benjamin Franklin Gates is a professional treasure-hunter (why was this choice never brought up on career day?), who like the rest of his family before him, has been searching for a treasure he believes was left by the Founding Fathers. Why they didn't just throw it in the treasury, I don't know. At any rate, it's up to him to discover the clues left behind, including on the back of the Declaration of Independence and, amazingly, the hundred dollar bill that was designed hundreds of years after the founders' deaths.

Learning of a plot to steal the Declaration by a rival group of treasure hunters (again with the hunters... is there like a union of these guys or something?), he has but one choice, steal it himself. Or, you know, tell the FBI that someone's about to steal it, whatever works. Before you can say Carmen Sandiego, a semi-thrilling, surprisingly Disneyland ride-esque adventure follows, featuring Gates, his trusty sidekick and some babe official they picked up along the way as they try to find the treasure before the evil guys do (lead by Sean Bean, playing every other role he's ever played).

Nicolas Cage returns to the sweet, enveloping House of Bruckheimer for the fourth time, four years after Gone in Sixty Seconds. Considering the returns of the films he did in this period, it's not that surprising he'd return to a 'safe' project like this - which isn't to say they were terrible (OK, so some were); Adaptation got him an Oscar nomination, but the film grossed under $25 million.

Bruckheimer actually had the first big ding in his armor in awhile this year in the form of King Arthur, which while doing pretty well internationally, was more or less ignored in North America and failed to bring about the rise of New Box Office Star Clive Owen. National Treasure is much more in the tradition of the Bruckheimer-produced action films of years past, like ConAir and The Rock, and the PG (! -- they still give those out for live action films?) rating might help it to surpass the traditional mid-20s opening range that these films have existed in. It all depends on whether we're ready to forgive Nic Cage or not. Look for a take in the high 20s, about $28 million.

This means the weekend should still belong to The Incredibles, for a third time. The Pixar film is easily outpacing everything else so far in the holiday season, having earned $150 million already. Dropping only 28% in the face of steep competition gives it big dog status, at least for a few more weeks, and in the family film category. Pixar simply can't seem to step wrong, and this branch into what is basically a super-hero action film bodes well for their future.

Not looking so healthy is the Sony Pictures Imageworks branch, which has left distributor Warner Bros. reeling a bit in the face of the disappointing open of The Polar Express. An estimated $150 million budget is looking career killing for some execs at this point, after just a $23 million opening weekend. Creepy Animated Tom Hanks only goes so far, I suppose. A Christmas push might save this one, but it's going to have a big fight to end in the black. Strong video sales might do the trick, eventually.

Bridget Jones: The Edge of Reason quadruples its screens this weekend to about 2,500 after an impressive fifth place finish on just 530 screens, with a $16,385 per venue average. It's obviously not going to hold for the expansion; this week's number will depend on the success of this platform strategy, one of the odder cases I can think of, considering that it's a sequel to an already successful film. The grapevine has this as lukewarm; meaning we probably should expect a gigantic jump in the overall take this weekend, perhaps around the $14 million mark.

Significant in limited release is Pedro Almodovar's latest, Bad Education. A film about the Franco era and sexual abuse in religious schools, it stars Gael Garcia Bernal, who's in just about every film made in Spanish lately. Already nominated for a handful of European Film Awards, it has been left off the docket as Spain's nominee for Best Foreign Language film for the Oscars, just as with Talk to Her two years ago. Of course, that didn't stop it from gaining two nominations anyway, so look for this film to make a late-year play for nominations of its own.