Friday Box Office Analysis
By Kim Hollis
November 6, 2004
BoxOfficeProphets.com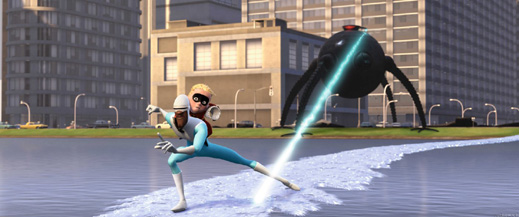 ---
Pixar continued its long-standing winning streak as the studio's marvelous take on the superhero genre, The Incredibles, made its first-day debut in theaters yesterday. The film kicks off the holiday movie-going season in style, while Alfie looks to be floundering its way to an average-as-could-be-expected opening weekend performance.

The Incredibles

CGI-animated films will be all the rage as long as the films that are produced in the genre perform as strongly as they do. The Incredibles will certainly keep that tradition going, as it took in a magnificent $20.9 million on Friday, more than Finding Nemo had on its first day by a few hundred thousand. Friday was the film's light day, as it definitely skews more to older kids and adults than to the tiny tots that loved Monsters, Inc. and Finding Nemo. Additionally, it almost demands multiple viewings - I saw it twice yesterday, myself. Look for a Friday-to-Sunday multiplier in excess of 4.0, which will give the Pixar film an opening weekend in the area of $84 million.

Alfie

Maybe people are tired of seeing Jude Law sneering through every other movie this fall. Alfie, a remake of the 1966 Michael Caine movie by the same name, managed a slight $2.3 million on Friday. The film is decidedly adult-skewing, which means that it should have a solid multiplier for its first three days. Something in the range of 3.5 would indicate a three-day total of $8.1 million.

Notable Holdovers

Ray held up pretty well in the face of a strong opening for a biopic. It dropped 40% from its first Friday, and its trending over the weekend should only improve. Look for a three-day total of around $13 million.

Meanwhile, horror film Saw dropped a slightly-better-than-expected 45% from last week. The Lions Gate financial success should add another $10 million to its coffers over the weekend.