Friday Box Office Analysis
By Kim Hollis
October 2, 2004
BoxOfficeProphets.com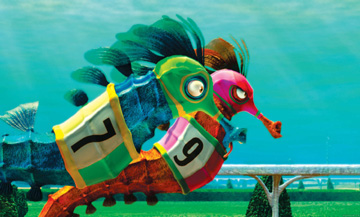 ---
Now that we've finally gotten away from the box office doldrums of September, could a CGI-animated film starring Will Smith and a movie that centers around the heroism of firefighters be just what the doctor ordered to cure the ills?

Shark Tale

This CGI-animated film from DreamWorks had lame trailers and middling reviews, but still managed a decent $12.9 million debut on its first Friday. Chances are, since kids were in school on Friday and we haven't seen anything even approaching a good family film for some time, Shark Tale will have a fairly strong Friday-to-Sunday multiplier. I'd look for something around 3.5, which would mean that the fish story will take in $45.2 million in its first three days. While I'm sure some folks will view that number as disappointing, it's more than the first Shrek film made in its debut frame.

Ladder 49

Despite the fact that Ladder 49 is going to come in at a distant second to some cartoon sharks, it didn't perform too badly. The Touchstone Pictures flick featuring Joaquin Phoenix and John Travolta had a first Friday number of $7.6 million. It's a highly adult-targeted product, too, so it's going to have a decent three-day multiplier. Give it around a 3.0 or so for $22.8 million from Friday-to-Sunday. And with that, it does indeed appear that the box office will start to see a bit of recovery.

Woman Thou Art Loosed

We've received a stunning number of e-mails from our readers about this film, so I'd be remiss if I didn't include it here. Opening in 408 locations, Woman Thou Art Loosed had a Friday total of $800,000. Before you turn your nose up at that number, keep in mind that this little film out of nowhere is going to make somewhere around $2.8 million for the weekend and take a top ten spot from one of those September openers that is falling off the radar.

Notable Holdovers

The Forgotten fell 51% from last Friday as it managed $3.9 million in the face of some pretty strong competition. That's really not all that disastrous a result on the second Friday, particularly in light of some of the precipitous drops other recent films have seen. The Forgotten should see about $10.5 million for its second weekend.

Despite terrific word-of-mouth, Shaun of the Dead fell 38% from its first Friday. It should hold up slightly better over the three-day weekend, and might get a total of $2.2 million in its second frame. Of course, if I have anything to say about it, you'll all go out and see it today, making it the surprise first place winner. So c'mon, people. Go give your love to the romantic comedy. With zombies.