Friday Box Office Analysis
By Kim Hollis
September 25, 2004
BoxOfficeProphets.com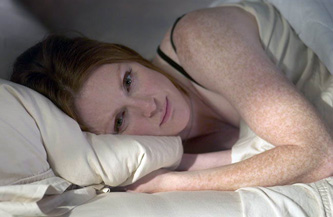 ---
Once again, Hollywood hopes that a suspenseful horror film might just be the kick in the pants needed at the box office. This week, a poorly-reviewed Sixth Sense-esque thriller, a second project about a First Daughter, and a romzomcom debuted in theaters. Only one looks as though it will have any sort of significant impact.

The Forgotten

Julianne Moore's The Forgotten managed a strong-for-September $8 million on Friday. Adult-skewing horror/suspense films such as this one tend to have surprisingly strong hold over the course of their debut weekends. For examples, look to stuff such as Stigmata, Stir of Echoes, and The Ring, which also share a commonality of release date time frame. Basically, it's a sure bet to release a movie of this genre in late-September to mid-October. The Forgotten has a great chance at a 3.0 Friday-to-Sunday multiplier, which would give it $24 million for the weekend and lead it to be one of the top five September openings in history.

First Daughter

Since I adore Michael Keaton, I'm disappointed to see that this film couldn't do just a little bit better. It suffered from a number of ailments. To begin with, it was the second "first daughter" project to hit theaters in the course of nine months, and the first one didn't do particularly well. Additionally, Katie Holmes and Marc Blucas just really aren't big-name draws at all. Pile a bunch of awful reviews on top and you've got the makings of a disaster. First Daughter managed $1.4 million on Friday - a million less than Chasing Liberty, Mandy Moore's first daughter film that was released in January. That film managed a paltry 2.5 three-day multiplier, which also looks about right for First Daughter. Give it $3.5 for the weekend and hopefully a longer shelf life once it hits DVD.

Shaun of the Dead

Sadly, this fantastic film from Simon Pegg and Edgar Wright, the creators of British sitcom Spaced, doesn't even make an appearance on Friday's charts. Chances are, the film simply looks too British for a mainstream American audience. Additionally, the leads are completely unknown here in North America. Nonetheless, as an ardent fan both of their television series and this film, I recommend it wholeheartedly.

Notable Holdovers

As Reagen Sulewski predicted in his weekend forecast yesterday, Sky Captain and the World of Tomorrow did indeed experience heavy fanboy rush on its opening day. The film dropped 59% from its opening Friday, and will surely go down as a huge disappointment for Paramount in a year of huge disappointments for the studio in general. Look for the film to make about $7.2 million in its second weekend.

Mr. 3000 fell about 45% from last Friday, and should wind up with about $5.2 million for the full three-day weekend. Wimbledon, which one would have thought would have significantly better legs, dropped 55%. That should even out a bit by the time Sunday estimates come in, but it's still looking a larger than normal depreciation for a romantic comedy. It should take in about $3.6 million for Friday-to-Sunday.