Friday Box Office Analysis
By Kim Hollis
September 18, 2004
BoxOfficeProphets.com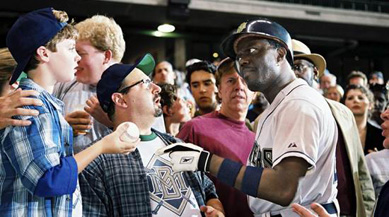 ---
Though the three new films that made their way into theaters this weekend looked to be of pretty solid quality, consumers weren't buying. Movie theaters are apparently occupied little more than the goo on the floor.

Sky Captain and the World of Tomorrow

After being delayed from its summer debut because the special effects shots were incomplete, Paramount made the bold decision to open this potential franchise in the dead zone of September. That move appears to have been a bad decision, as Sky Captain and the World of Tomorrow managed only $5.1 million on its first day of business. It probably will have a decent multiplier since the film is upbeat family fare the likes of which hasn't been seen for awhile. Give it a 2.9 and $14.8 million for the weekend. There's no way Paramount is going to come anywhere near recouping the $70 million budget of this film domestically, which probably means that director Kerry Conran's involvement in the Princess of Mars saga might become an uncertainty.

Mr. 3000

Bernie Mac's first effort at carrying a film was middling at best. Mr. 3000, the baseball film about a past-his-prime star who returns to the game for selfish reasons, pulled $2.9 million on Friday. Since there's no reason to think this one should suffer from any frontloading, we'll look for a 3.0 multiplier for Friday-to-Sunday, which would give the Touchstone project $8.7 million for the weekend.

Wimbledon

In the end, people just weren't all that interested in seeing a love story set on the tennis court. The good news for Wimbledon, though, is that it should have excellent staying power at the box office. Reviews are generally positive for the most part, and the audience who generally likes this sort of thing will spread the word quickly. The Paul Bettany/Kirsten Dunst rom-com took in $2.7 million on Friday from a moderate number of venues. Look for a weekend multiplier of 3.2 and a total of $8.7 million for the three days.

National Lampoon's Gold Diggers

This movie that should have been straight-to-video didn't even cause a blip on the radar screen. We'll have a further report on its woes once more complete weekend numbers come in, but it's probably not even going to crack the top ten.

Notable Holdovers

Resident Evil: Apocalypse took an absolutely dire tumble from last Friday to yesterday, falling an outrageous 71%. There was never any doubt that the fanboy rush to see the film on opening day would be huge, but this is bordering on ridiculous. The film might manage another $7 million for the weekend before it begins to fade out of the picture entirely.

Cellular, on the other hand, had a pretty reasonable Friday-to-Friday drop of 36%. It's going to hold up quite nicely over the weekend, and should pull another $6.8 million.