September Box Office Warms With "Evil"
Weekend Box Office Wrap-Up for September 10-12, 2004
By John Hamann
September 12, 2004
BoxOfficeProphets.com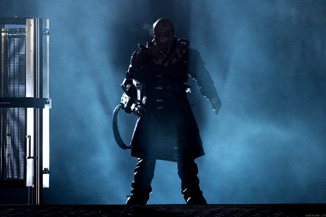 ---
The autumn box office season continued at its very slow pace this box office this weekend, with one exception. Screen Gems' Resident Evil: Apocalypse got off to a great start on Friday, but the rest of the pack continued to fade into obscurity as moviegoers waited for better choices. Maybe they are waiting for Sky Captain and the World of Tomorrow, whose marketing seemed to have more penetration this week than either of the weekend openers.

September has never been a great month to open a film. The top opener remains late-September release Sweet Home Alabama at $35.7 million, with the original Rush Hour still holding onto second at $33 million. Until this weekend, third place was Once Upon A Time in Mexico – last year's September champ – at only $23.4 million. A couple of films set for release in September have a shot at being number one for September, including the aforementioned Sky Captain and the World of Tomorrow and this weekend's Resident Evil: Apocalypse.

The number one film this weekend is Resident Evil: Apocalypse, the latest horror sequel for a film that may not have needed it from Screen Gems (the other being Anacondas). The greenlight on this one was a smart move – Resident Evil: Apocalypse grossed a stunning $23.7 million from 3,284 venues this weekend. It had a venue average of $7,216, which compares very favorably compared to the original's opening weekend take of $17.7 million and venue average of $7,004. The Resident Evil sequel becomes Screen Gems' biggest opener ever, beating last September's Underworld, which opened to $21.8 million. It's also the biggest opening ever for star Milla Jovavich, whose biggest openings so far were The Fifth Element ($17 million, which with inflation adjusts to about $22.3 million) and obviously Resident Evil ($17.7 million).

As Kim Hollis reported yesterday, Resident Evil: Apocalypse got out of the gate with a bang on Friday, grossing a reported $9.3 million. It wilted somewhat over the weekend, as the rabid fans of the original and the video game came out in droves Friday night. The film ended the frame with a weekend multiplier (Weekend gross divided by Friday gross) of 2.54, a number so low it's almost exclusively reserved for horror and sci-fi sequels and Steven Seagal movies. Screen Gems won't care. The production budget was reportedly $50 million ($17 million more than the original), a number that it should be able to reach domestically, even with the almost guaranteed big drop it will see next weekend.

Finishing well back in second is New Line's Cellular. The Kim Basinger action flick grossed a moderate $10.6 million over the weekend from 2,749 venues. The studio missed a good opportunity to open this film bigger, but a lack of marketing kept it down, and it carried a venue average of only $3,855. Cellular was written by Larry Cohen, whose last (and pretty much only) hit on his resume was Fox's Phone Booth, which has a very similar plot to that of Cellular. Fox was luckier with Phone Booth; it opened to $15 million and ended up with $46.6 million domestically, and $51.3 from overseas receipts. New Line and Dean Devlin's Electric Entertainment will be lucky to get $35 million out of this one.

The rest of the top ten was relegated to the cheap seats this weekend, as the performance of the Labor Day Weekend really rears its ugly head. Third goes to teen comedy phenom Without a Paddle. Sometimes you have to be smart, and sometimes you have to be lucky. Paramount and De Line Pictures certainly got lucky with Without a Paddle, as the comedy has managed to stay in the top three for four consecutive weekends, albeit not over the busiest part of any season. This time out, WAP grossed only $4.6 million; however, that gross has brought the film's total up to $45.6 million. It dropped softly again this weekend, losing only 35% compared to last weekend. Made for only $19 million, this is one of the few successes for Paramount over the last year. Four new films are coming next weekend, so I hope it enjoyed its time near the top as it will be going downstream next weekend without… well, without a paddle.

Fourth this weekend goes to two-weekend champ Hero, which finally got passed by leggy teen flick Without a Paddle. Hero grossed $4.4 million in its third frame, dropping a big 50% from its three-day take of $8.8 million last weekend. Miramax added 83 venues this weekend, bringing Hero's venue count up to 2,175 – it had a venue average of $2,032. Miramax has already unveiled the DVD release date for the epic movie – November 30 – only three months after its theatrical street date. DVD revenues will pad the film's current domestic gross of $41.7 million.

Sitting in fifth this weekend is The Princess Diaries 2, which rose on Saturday to make the top ten, after not making the list at all on Friday. TPD2 grossed $2.9 million this weekend, down 47% from last weekend. The Anne Hathaway starrer has now pulled in $89.3 million against a production budget of $40 million.

Sixth goes to the other Screen Gems title in the top ten - Anacondas: The Hunt for the Blood Orchid. Anacondas is another film that has no right still being in the top ten. In its third weekend, the snake sequel grossed $2.9 million, down a massive 55% from last weekend's three-day take. The film, made for $25 million, had now grossed $27.7 million.

Vanity Fair lands in seventh after Focus Features neglected to add theatres to the film's platform release. Despite only adding three venues to the film's count (now at 1,054) Vanity Fair still performed admirably, dropping 43% from last weekend's three-day take, grossing $2.8 million. The costume drama actually moved up the chart from eighth to seventh, and now has a running total of $11.2 million. It will have a slow rollout internationally beginning in Australia towards the end of September.

Eighth goes to Collateral, the Tom Cruise movie people are still seeing due to a new crop of questionable choices. Collateral grossed $2.7 million this weekend, dropping 46% from the previous frame. Its total has now hit $92.7 million.

After 13 weeks of not making the top ten list, Napoleon Dynamite finally takes a top tier spot at the weekend box office. After playing in limited release for over three months, Napoleon grossed $2.7 million this weekend. Fox Searchlight is the studio behind this little film, made for only $400,000. This arthouse powerhouse has now grossed $30.4 million, making it one of the most successful films of the summer.

Tenth this weekend is Paparazzi, last weekend's top debut earner in the crappy crop of new films. Paparazzi grossed only $2.6 million this weekend, down a huge 58% from last weekend. The Icon Productions film has now grossed $11.8 million against a production budget of $20 million.

Overall this weekend, box office paled in comparison with last year's totals. In the 36th weekend last year, the top ten grossed about $71 million and was led by Once Upon a Time in Mexico at $23.4 million. This year, the top ten came in at $59.8 million, well back of totals from a year ago.