Hurricane Frances Adds to Box Office Woes
Weekend Box Office Wrap-Up for September 3-6, 2004
By John Hamann
September 5, 2004
BoxOfficeProphets.com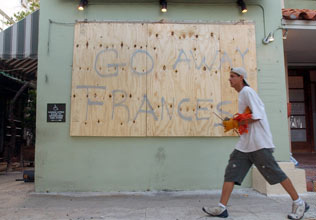 ---
Despite the holiday Monday, movies were definitely not the choice over the long Labor Day Weekend, as movie-goers were either getting ready for school, on vacation, or evacuated from Florida. We had four new releases this weekend, none of which had any box office power. Hero may be the hero again this weekend; however, its sophomore weekend percentage drop was dramatic. The result is one of the slowest moviegoing weekends in a very long time.

It was just last year when Jeepers Creepers II became the top grossing film ever for the Labor Day Weekend at only $18.4 million. One might think that studios would have taken a lesson from that and dumped a cheap horror sequel onto the long weekend, but as we all know, horror sequels were the staple in August. Studios have simply run out of bad horror sequels to release (at least until next weekend). Instead, we get four films that inspired no one to go to the movies – a period piece with Reese Witherspoon that should have been a limited December release, an urban comedy in The Cookout, a revenge flick with no stars in Paparazzi, and Wicker Park, a film that couldn't be marketed. This weekend was a car accident waiting to happen, and with many theatres closed for most of the weekend in Florida, it was set to be a disaster. For the three-day portion of the weekend, the frame ended up the slowest in almost a year – we have to look back to the Dickie Roberts first place opening last September ($6.7 million) to find a weekend so troubled. It's almost like Hurricane Frances took direct aim at the box office.

Hero is again the number one film of the weekend, but despite rave critical reviews, the martial arts epic tumbled hard compared to last weekend. Hero grossed $8.8 million over the three-day portion of the long weekend and $11.5 million over the four-day. For the three-day portion of the weekend, that's a drop compared to last weekend of 51% after coming in at number one last weekend with a little over $18 million. Even with the Florida situation, that's not a great achievement for a film that came in at 94% fresh at RottenTomatoes. Hero had a three-day venue average of $4,208 from 2,092 venues – 61 more than in its debut weekend. David Mumpower last weekend called the Jet Li epic a potential one-weekend wonder, and at this point, that's what it seems to be. Hero has a domestic gross so far of $35.3 million, and a separate overseas cume of $104.4 million. Hero carries a budget of $30 million and is being released domestically by Miramax, after leaving it on the shelf for way too long.

Second spot this weekend is not one of the four openers, but is rather the surprisingly successful Without a Paddle. In its third weekend, Without a Paddle grossed $7.1 million over the three-day portion of the weekend, and $9.4 million over the four-day. Young adults are eating this one up – the broad comedy dropped only 18% using the three-day figure, and was actually up 9.5% using the four-day figure. Director Steven Brill of Little Nicky fame most likely saved his career with this one. Paramount's $19 million film has now grossed an outstanding $40.2 million. Surprisingly, Without a Paddle is going to end up being more of a moneymaker for the studio than The Manchurian Candidate.

Third over the Labor Day Weekend is Anacondas: The Hunt for the Blood Orchid. Screen Gems released Anacondas, and the 'film' took in $6.4 million over the three-day and $8 million over the four-day long weekend. After opening last weekend with $12.8 million, the snake flick was kneecapped this weekend, dropping 50% compared to the three-day gross (I guess it's not working as a comedy either). Anacondas has a current take of $23.9 million. Screen Gems will have another sequel in release next weekend, as they are the distributors behind Resident Evil: Apocalypse.

This weekend's first new release shows up in fourth place. Paparazzi wasn't screened for critics. From Mel Gibson's Icon Productions, Paparazzi grossed $6.3 million over the three-day portion of the long weekend, and $7.9 million over the four-day. Released to 2,115 venues, Paparazzi carried a sad sack three-day average of $2,955. Directed by former movie hairstylist Paul Abascal, Paparazzi was called a "celebrity revenge film" by some of the lesser known critics who were able to get their two cents in prior to this films release. At the time of this writing, RottenTomatoes had 21 reviews, with only two positive. Most are hateful towards the film; however, among the hate, About.com for some reason calls Paparazzi "A classic revenge tale in the tradition of Charles Bronson, Clint Eastwood and the early works of Steven Seagal." Oh, realllly. This one could easily go from fourth to gone next weekend. Let's hope so.

The Princess Diaries 2 ends up in fifth spot this weekend after four weekends of release. The Disney teen girl flick grossed $7.3 million over the long weekend, from 3,139 venues. Diaries 2 is going to finish well back of the original, as its current gross of $85.3 million does not compare favorably with the original's take of $108.2 million.

Way back in sixth this weekend is Wicker Park, Josh Hartnett's latest oddball starring choice. The poorly marketed Wicker Park stumbled out of the gate over the long weekend, grossing $5.4 million and $6.8 million over the three and four-day portions of the long weekend. Critics ravaged this one as well, but at least MGM let critics see it. At RT, 78 critics sat through this mess, and only 18 liked it enough to give it a positive review, resulting in its 23% fresh rating. Wicker Park had some of the worst pre-release marketing I've ever seen, as it made the premise look absolutely silly. Made for about $30 million, Wicker Park could be MGM's last release before being sold off to either Time Warner or Sony. As for Josh Hartnett, he should let someone new pick his next film, or he'll be doing a sitcom before you know it.

Seventh goes to Collateral, as the Tom Cruise release hangs on to a top ten spot for the fifth consecutive weekend. DreamWorks' Collateral found $6.5 million over the long weekend (almost even with last weekend), and brought its total up to $88.9 million. DreamWorks is going to need about $250 million from its last two releases in 2004 to crack the billion dollar mark. That could prove to be a challenge for Shark Tale and Surviving Christmas.

Winding up in eighth is Reese Witherspoon's latest, Vanity Fair, a film that doesn't seem to fit a Labor Day release. The period piece grossed only $6.1 million over the long weekend, and has grossed $7.3 million since opening on Wednesday. Vanity Fair got out to only 1,051 venues, so at least it had the best venue average in the top ten at $5,823. The film cost Focus Features and its partners about $25 million to make, and still may platform wider next weekend.

The urban release The Cookout ends up ninth, as the comedy didn't connect with its core audience. The Cookout failed to cook up much bling bling this weekend, as the Labor Day gross comes in at only $6.1 million from 1,303 venues. The Lions Gate flick ended up with a three-day venue average of $4,681.

The Bourne Supremacy finishes tenth this weekend, as it most likely enjoys its last weekend in the top ten after a great run at the box office. The powerful Universal sequel may have only grossed $5.4 million over the long weekend, but it does bring the domestic total up to $164.8 million. The Matt Damon film is just getting started overseas – so far it's grossed $27 million overseas with much more to come.

Overall this weekend, thanks to a poor crop of new releases and the shutdown in Florida, box office was severely troubled. The top ten grossed only $58.9 million for the three-day portion of the weekend, the lowest since September 5, 2003 when the top ten grossed about $46.6 million. Things should pick up next week with the release of Resident Evil: Apocalypse and Cellular.