Friday Box Office Analysis
By Kim Hollis
September 4, 2004
BoxOfficeProphets.com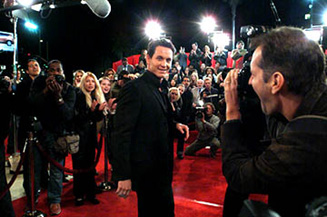 ---
Four new openers sputtered into the box office this weekend, but when the record books are closed, none will be remembered for having any impact. Instead, Labor Day Weekend 2004 will be remembered for a hurricane named Frances.

Paparazzi

This Cole Hauser revenge film somehow scored the highest out of the films debuting this weekend as it took in a tepid $1.9 million on Friday. Since it is adult targeted for the most part, it should hold up fairly well over the long holiday weekend. Look for a three-day multiplier of 2.9 or so, which would indicate a Friday-to-Sunday total of $5.5 million. It might add another million or so for Labor Day before quickly fading away in the coming weeks.

Wicker Park

Josh Hartnett's continued eclectic career choices aren't doing him any favors. Wicker Park came in pretty close to Paparazzi, finishing with $1.7 million on Friday. Since it's a teen-targeted film for the most part, it's not going to fare that well over the long haul. Give it a 2.7 multiplier for Friday-to-Sunday and $4.6 million for the three days. Again, it might add a million to its coffers on Monday. Like all of the new stuff this weekend, Wicker Park was poorly reviewed, so any lasting life at the box office is going to be negligible.

The Cookout

Though the premise for this Queen Latifah-produced film always sounded like a lot of fun, the marketing simply wasn't strong enough to get the primary demographic into theaters. The Cookout squeaked by on Friday with $1.6 million, and probably will finish Sunday with $4.3 million. Like the other releases, it will take in a small additional amount on Monday, but after that, it's going to be off the radar really fast.

Vanity Fair

After opening on Wednesday and pulling a slight $1.1 million for Wednesday and Thursday, this adaptation of the classic William Makepeace Thackeray limps along to an additional $1.4 million on Friday. Due to the adult-skewing nature of the material, it's likely to have the best multiplier of the four films debuting this weekend. A 3.1 for Friday-to-Sunday would give Reese Witherspoon and Co. $4.3 million for Friday-to-Sunday. The film should have a cumulative total of close to $7 million after the holdiay.

Notable Holdovers

As we had predicted last week, Hero was indeed heavily frontloaded as far as opening day viewers went. The Jet Li film dropped 63% from last Friday and should finish up the three-day portion of the weekend with an additional $7.2 million in the bank. Interestingly, that will be enough to keep Hero at the number one spot for a second week in a row.

Meanwhile, Anacondas: The Hunt for the Blood Orchid held true to the horror film tradition this summer, dropping 60% from its opening day. It will battle with the openers for the number three spot of the weekend (Without a Paddle will likely finish at two as it held up well again), with a probably $5.8 million for the Friday-to-Sunday portion of it.