Friday Box Office Analysis
By Kim Hollis
August 28, 2004
BoxOfficeProphets.com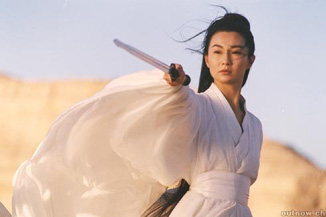 ---
It's a bit of a surprise at the box office this weekend, as Hero, a film that long languished for a release thanks to the cruel whims of the folks at Miramax, proved to be most enticing for movie-goers.

Hero

Hero, the lush epic from Zhang Yimou, was the top film on Friday. The gorgeous, thought-provoking film took in a remarkable $6.8 million on its first day. This early success can be attributed to a number of factors. Jet Li is a pretty popular action star in his own right; even his weakest performing film, Kiss of the Dragon, managed a $13 million opening in 2001. Additionally, the fact that Quentin Tarantino was promoting the film by attaching his name to the trailers didn't hurt at all. And finally, the excellent reviews for Hero were almost surely a driving force, since it does take some encouragement to get audiences out for subtitled films. It is currently sitting at 94% fresh at RottenTomatoes, with 100 out of 106 reviews being positive.

It's very difficult to extrapolate what Hero might do over the course of three days; in fact, there is really only one other film that is even a close comparison – Crouching Tiger, Hidden Dragon. That Ang Lee classic was released as a platformer, gradually moving from very limited release to a wider number of screens. At its highest saturation point, it had 2,027 theaters, which is about the same number on which Hero debuted.

Since it appears rather certain that Hero was so highly anticipated that there was huge first-day demand, it's probably fair to say that it will not see a huge multiplier for its three days. If it manages a 2.7, we're looking at $18.4 million for the weekend, and all the more reason for the Weinstein brothers to chortle this summer.

Anacondas: The Hunt for the Blood Orchid

Mark your calendars. August 27, 2004 is the date that audiences finally seemed to tire of horror films to some degree. After seeing junk like Alien vs. Predator and Exorcist: The Beginning perform surprisingly strongly on their opening Fridays, Anacondas looks to be an underperformer. The unnecessary sequel took in $4.3 million on Friday, which has to be somewhat disappointing in comparison to other films from this summer's horror crop. It's not going to hold up well over the weekend, either. Give it a 2.5 Friday-to-Sunday multiplier as a best case scenario and $10.8 million for the weekend.

Suspect Zero

This dog of a film was never disguised. Dumped at the end of August to a slight number of theaters, Suspect Zero's first Friday was a meager $1.0 million. It won't have a horrible three-day multiplier, though, since it definitely skews adult. A 2.9 is probably as high as it can go, which would mean that the film will take in $2.9 million before vanishing into relative obscurity.

Super Babies: Baby Geniuses 2

Score one for the intelligence of North American movie-going audiences. This kid flick was able to score only $1 million on Friday. Even with a family-friendly multiplier of 3.0, it's going to start off with a mere $3 million over its first three days before heading off to DVD and video shelves where it rightfully belongs.

Notable Holdovers

Without a Paddle held somewhat well, falling only 45% from last Friday. For whatever reason, the film has struck a chord with its target audience. Give it $8 million for its second weekend.

Exorcist: The Beginning, on the other hand, dropped a whopping 69% from its first Friday. It's going to join the many films this summer who started off strong and then lost steam quickly. The Warner Bros. flick is looking at $6.5 million for this weekend.

Open Water dropped a pretty rough 60% from the first Friday it spent in wide release. Although critics love the film in general, wider audiences are just finding it too slow and plodding. It was probably most appropriate as an art house darling, really. Look for a $4.6 million weekend, which still is plenty enough to make Lions Gate happy.